RANDY Cozier, a 24-year-old Moruca, North West District resident, who went on a chopping spree, was Wednesday arraigned before Chief Magistrate Ann McLennan for murdering his sister Cynthia Cozier.
Cozier, a weeder, appeared at the Georgetown Magistrates' Court and was not required to plead to the indictable charge.
Particulars of the charge stated that, on July 4, 2019, at Yabakabra, Mariahaba Island, Moruca, the defendant murdered 28-year-old Cynthia Cozier.
Cozier stood in the prisoners' dock looking lost and seemingly unaware of his surroundings, as he had the magistrate repeating herself several times while trying to gather his particulars.
Police Prosecutor Gordon Mansfield told the court that, on the day in question, Cozier went to Cynthia's home at Yabakabra, Mariahaba Island, Moruca, and was mingling with the family. It is alleged that the defendant picked up a stone and hurled it at children in the yard; Cynthia called on him to desist and he became annoyed. The defendant then armed himself with two cutlasses and dealt Cynthia several chops to her neck and back.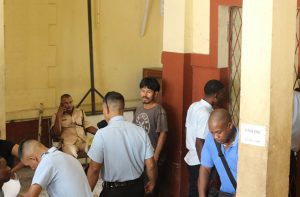 Cynthia's eight-month-old baby and her sister Beverly France, age 40, were also injured during the attack. The injured were rushed to the Suddie Hospital where Cynthia succumbed; France and the baby remain hospitalised and are said to be in stable condition. After his chopping spree, the defendant made good his escape and was arrested by the police at Waramuri Mission the following day.
It is alleged that Cozier attacked police officers with a cutlass and one of the officers sustained chop wounds to his hand. Consequently, the officer was forced to seek medical attention.
The chief magistrate remanded Cozier to prison and placed him under the supervision of a probation officer for counselling. The matter has been adjourned until August 5, 2019.