MAYOR Ubraj Narine has said that he is utterly "fed up" of the manner in which the City Engineer's Department, headed by Colvern Venture, is operating.
The mayor voiced his dissatisfaction during the City Council's statutory meeting on Tuesday after councillors complained about several manholes around the City which have no covers.
As for the manhole at James and La Penitence Streets, Albouystown, Councillor Heston Bostwick reported that three children fell in recently. "Due to our negligence, limbs can be lost," the councillor posited.
Councillor Oscar Clarke also commented that there are several other manholes across Georgetown which are bereft of covers.
"You know something named fed up? The mayor is fed up of the Engineer's Department," Narine responded.
When called upon, the City Engineer said Assistant City Engineer, Rasheed Kellman, was advised to attend Tuesday's statutory meeting so that he could have provided answers to the issue. Kellman was, however, absent.
Venture said he was in the process of sending a memo to Kellman, after which he will also forward one to the mayor for advice on the way forward.
But Councillor Gregory Fraser questioned why Venture was not in possession of the said information. "The engineer was asked to report on a matter. We expect answers from him," Fraser said.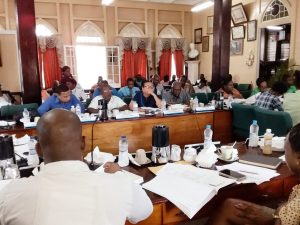 He said he found it funny that Venture could not respond to the matter himself, even though another officer was tasked with providing the answers.
Senior members of the said department have constantly been criticised for the manner in which they conduct the Council's business.
Previous Mayor Patricia Chase-Green had complained about the lackadaisical attitude with which the Engineer's officers approach their work, and had said she was "tired" of complaints being brought to the Council about them.
"I'm tired of complaints against the Engineer's Department involving senior building inspectors. You're dodging the people, hiding from them, telling them to come back over and over. The attitude of those in the Engineer's Department stinks; their attitude towards citizens is unacceptable," Chase-Green had lamented. She said it was high time that some officers from that department go home because they are at work doing absolutely nothing.
"You have officers in the yard liming whole day," she charged, and when they are picked up and taken into the fields, they produce the reports months after; and worse yet, give the excuse that they have to revisit the location before submitting the reports.
"These officers are not doing what they're expected to do," she said. "I'm tired of hearing the same names over and over again. You have senior officers sitting down doing nothing."
She had also lamented the fact that despite their behaviour, the municipality has to find money to pay their hefty salaries every month. "It is time the nonsense stops," she said.
With respect to allegations in the past of rampant corruption in the City Engineer's Department, Chase-Green once said "The only time you hear about the City Engineer's Department is when they are taking bribes all over the place."