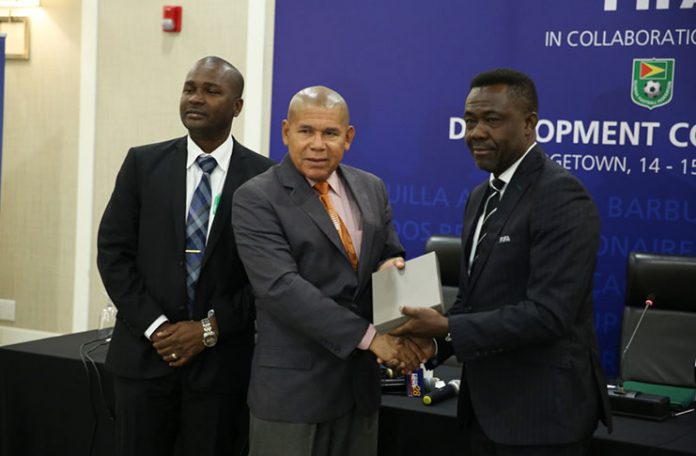 GUYANA is hosting the FIFA Conference on Development for the very first time, as affiliated Member Associations from the Caribbean Confederation Union (CFU) gather in Georgetown where they will streamline the future for the sport as a collective and individually in their respective regions.
FIFA's Director of Member Associations and Development, Veron Mosengo-Omba, addressing the gathering, expressed his gratitude to the Guyana Football Federation (GFF) and the Government of Guyana, on behalf of FIFA president Gianni Infantino, adding that the head of the sport's World Governing body, "asked me to tell you that he is looking forward to seeing all of you in Paris and he thanks you for your support which enables him to continue the work started in 2016."
Mosengo-Omba reminded the delegates that Development means "the future, the FIFA Development Programme, Forward is essential for the future of the sport of football.
Despite the progress made since the implementation of the Forward programme in many FIFA Member Associations, Mosengo-Omba said, considerable inequality remains in most of the segments of football organisation.
"The Forward Development Programme, an essential pillar of FIFA development, provides to all FIFA Member Associations, a great opportunity to improve their football and other important areas: administration, technical education, social responsibility, etc. (but) to make all of this happen, each MA most put in place a proper administrative structure, define its objectives, implement a strategy and also evaluate the impact of its actions," said Mosengo-Omba.
Mosengo-Omba, who is responsible for development for Africa and the Caribbean, was clear that while indeed development takes time, it requires the Member Associations and FIFA "to work hand-in-hand and also requires the trust of the public in our respective organisations. The basis of trust should not only be due to the good result of national teams but also due to our actions in the area of social responsibility."
The Agenda of the conference, according to Mosengo-Omba, "will be focused on the instruments that will allow us to better plan and manage projects. It will address for instance, the question of: What is a project? What triggers a project? How and why to establish a project? Strategy? What does it mean? Why do we need it? How to evaluate our project during and after completion, – the power of football to bring shine in the society!
The Conference will wrap up today.