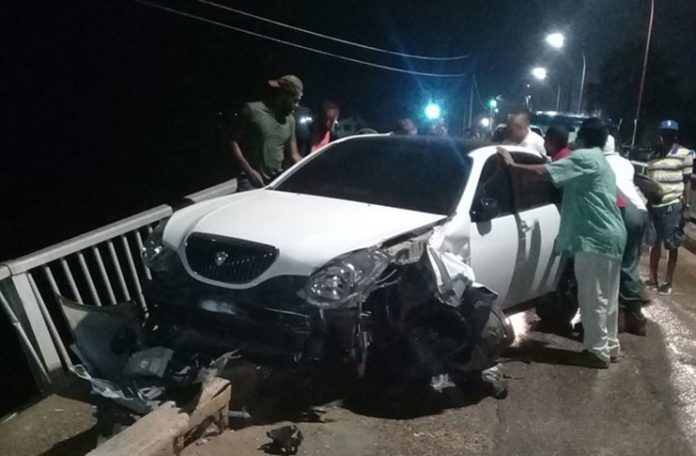 THE Mackenzie-Wismar Bridge has sustained significant damage after a speeding car crashed into its rails and almost ended up in the Demerara River.
Motor car PWW 70, driven by a popular Linden businessman, was proceeding north to Mackenzie at a fast pace when it collided with the left side of the bridge, but fortunately, did not go overboard.
Public-spirited persons came to the driver's aid. He was not seriously injured.
Chief Executive Officer (CEO), Emit Alves, of the Linmine Secretariat, the entity that manages the Mackenzie -Wismar Bridge, said in incidents such as this, the repairs are funded by the driver, who in this instnce, would have already committed to doing so.
It is hoped this will be done expeditiously, since the current damaged state can be deemed a safety hazard to motorists as well as pedestrians. Alves is encouraging motorists to always observe the speed limit when using this particular bridge, which is 15 km per hour.
Only last year August, the Ministry of Public Infrastructure (MoPI) expended millions of dollars to conduct major rehabilitation works on the bridge, following residents' concerns that it may is sinking. The rehabilitation included cleaning, sandblasting and tightening of nuts and bolts. In 2013, a Linden businessman, 35-year-old Collis Mentis called "Thom", was reportedly speeding, when he met his demise while driving over the bridge.