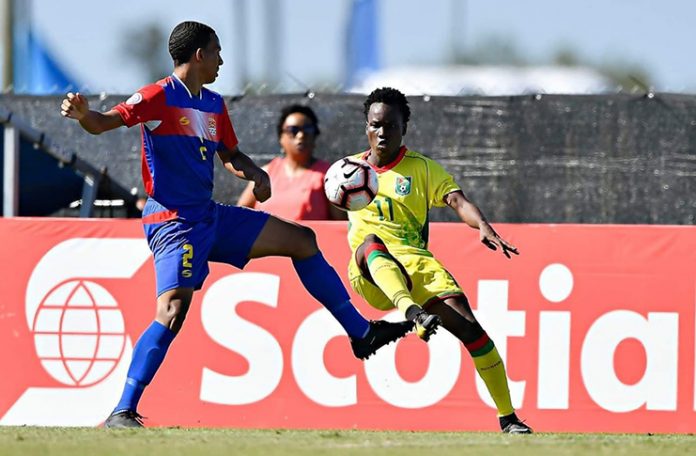 IT was a spirited performance by Guyana in their penultimate game at the CONCACAF U20 Championship, but Cecil Jackman's own goal in the 32nd minute was the difference in Guyana's 4-3 defeat to Curacao yesterday at the IMG Academy in Florida, USA.
Head coach Wayne Dover made a change in his line-up from the previous game, sending goalkeeper Johnathan Vaughn to the substitute bench to make way for Jermain Cumberbatch, while Job Caesar, Ryan Hackett and Nixon Robertson made way for Chris Macy and Raushan Ritch.
Kelsey Benjamin continued his impressive form in the tournament, scoring in the sixth minute after burying his effort past a stretching Kevin Juliana in goal for Curacao, to give Guyana a 1-0 lead.
However, Guyana's lead was short-lived, with Carolith Fermina equalising three minutes later for the men from Netherland Antilles.
Guyana continued their relentless pursuit of another goal, but while their attacking efforts were paying off, in the defensive third, men from the land of the 'Mighty Kaieteur' looked shaky and Curacao's Meghon Valpoort, in the 26th minute, put his side up 2-1.
But things took an unexpected turn when Fruta Conquerors defender Cecil Jackman, in an attempt to clear a ball from a free-kick taken by Curacao, mistakenly headed it (the ball) in his own goal.
Nonetheless, the Guyanese regrouped and Benjamin using his pace, once again made his way around the Curacao defenders and neatly slipped the ball to Thair Britton, who clinically finished just before the stroke at halftime to bring Guyana within one (2-3) at the interval.
Dover, in the second half, brought in Hackett and Caesar, taking out Nicholas McArthur and Kwai Marsh-Brown, in an effort to chase goals, but ten minutes (55th minute) into the second stanza, Jaron Vicario made it 4-2 for Curacao when he hammered home a shot that was too rich for Cumberbatch in goal for Guyana.
Meanwhile, Britton grabbed his second goal of the game in the 57th minute, thanks to a bit of luck. After chasing a ball in the penalty area, Britton was in the right place at the right time, as Juliana's clearance attempt slammed into the back of the Guyanese and the ball, on the rebound, bounced past the Curacao goalkeeper.
Guyana never really troubled the Curacao defence thereafter, and would fall to their third consecutive defeat, having lost to Guatemala and Cayman Islands in their previous games played in the USA.
The Jeremy Garrett-captained side will close their campaign at the CONCACAF event against El Salvador tomorrow.