THOUGH they did not come with many of the exotic animals and death-defying stunts that some had expected, many persons still had a fun time at the Suarez Brothers Circus which opened last Friday at the D'Urban Park.
There were many acts that amazed and enthralled the audience including the bicycle stunts, aerial dancer and skateboarding dogs, while Peluzin Junior the resident clown kept the audience in gales of laughter with his stunts which were spread out in different periods throughout the show.
"It was just alright, I guess I was expecting more animals than that, but otherwise than that it was just ok," said one patron who took her young daughter to see the event.
The Circus was drastically curtailed after they were unable to bring in many of their animals due to transportation and customs restrictions. "Yes, it's really complicated with the big animals," commented Katherine Suarez, one of the Circus Managers.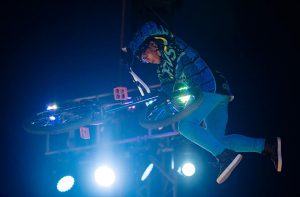 This was the third time that the Suarez Brothers Circus has come to Guyana, having been here in 2003 and 2005, and many remembered the circus for the thrilling motorcycle cage and most importantly the many striking animals including white horses, and tigers.
"It was alright, people said it was ok, I thought the same. I guess people would say that it was ok because it was different [and] we don't have a lot of variety so it was fine," commented Joel Hunte, who went to the Circus with his friends.
However, there were still those events that amazed the eyes. The "quick change" really had the crowd in astonishment as they pondered how the young woman continued to change her outfits so quickly with such limited space.
Another pretty interesting act was when the performer sawed off the head of his assistant and placed it on another table.
But it was the skateboarding dogs that were the cutest act of the night and had all gushing as the small dogs performed their acts, which aside from skateboarding also included jumping through hoops and ladder climbing and skydiving.
There was also a series of interactive acts that got the audience involved, even one that allows a young child to be part of the action. Peluzin got the crowd really worked up when, with the assistance of four persons from the audience, he put on a silent skit that had the audience in constant laughter.
The most suspenseful act of the night was a young lady performing aerial acts from an elevated swing, it left the crowd at the edge of their seats as she swung her body about, at times with just the rope attached to her legs to stop her from plummeting to the ground.
Following a 15-minute intermission, it was on to the bicycle stuntmen who also dazzled with their aerial stunts.
The night ended with another aerial dance performance, this time involving a spaceship.