Visitors to Guyana will get a taste of the country through the vision and expression of renowned artist, George Simon.
The indigenous painter, who is arguably one of the best Guyana has ever produced, was commissioned to do a large piece that captures Guyana's beauty. He has since completed it as a triptych (a work of art that is divided into three sections) and they are now on display at the arrival lounge at the Cheddi Jagan International Airport.
Entitled, "The Silent Witness," Simon has dedicated the piece to the memory of famed deceased Guyanese writer Sir Wilson Harris. The 71-year-old used an earlier piece, "The Study of Silent," which was also dedicated to the memory of Mr. Harris, to inspire his latest work.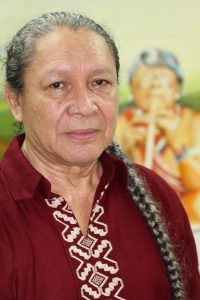 The "Palace of the Peacock" author Harris, who died in March at the age of 96, was an inspiration to Simon.
The two creative minds met through another renowned Guyanese, Pauline Melville. The writer/actress introduced the pair in the early 90s, while Simon was a university student in London.
"Wilson and I religiously met every Wednesday to go for walks in the Kingston gardens. We spoke at great lengths about the hinterland of Guyana and its inhabitants. He, like Denis Williams, made me realise my rich cultural heritage. They brought me back to my roots, so to speak."
That nature aspect of life has been an inspiration for Simon in many of his works and his latest painting was no exception.
The 15ft by 9ft piece, which was hung earlier this month, highlights Mount Roraima, Lake Amuku, the Kaieteur Falls and the Kaieteur Gorge, but it is expressed in Simon's mystical understanding of the harmonious energies that connect our flora and fauna.
Simon's archeology background is also captured, since he used a number of petroglyphs abstractly in the painting.
Simon, who was born in St. Cuthbert's Mission, told the Guyana Chronicle on Sunday that he wanted to set the atmosphere for visitors.
"The idea is to impress visitors immediately on arrival of our lush country, outstanding sites, Amerindian heritage, wildlife and mystery!"
Simon had a challenge to paint the entire piece in his studio at his new home in Spain, and even when he went outdoors to the garden—his walls were too low to support the canvas. So, he decided to break the composition up into three pieces.
"I then proceeded to work on the canvases individually. I placed them together on the ground outside my studio and viewed it from the terrace above to match the pieces. It was an interesting undertaking as I had a small group of individuals who visited regularly to see the progress of the work. Having completed the work I un-stretched the pieces and rolled them up for transport to Guyana."
The 'Silent Witness' took three months to paint.