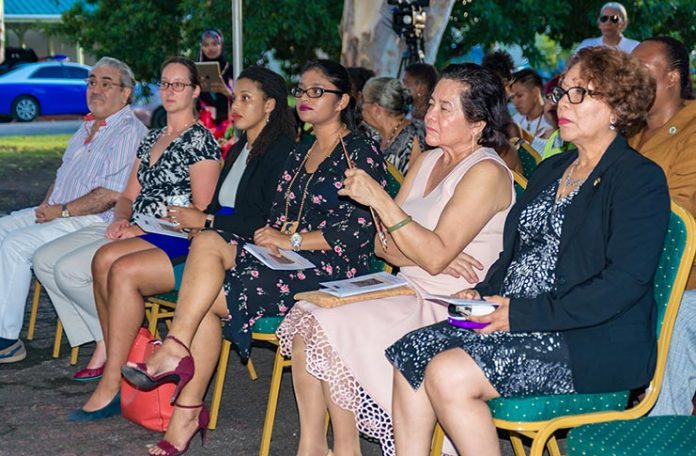 Exhibition hosted in honour of esteemed Indigenous Artist
CASTELLANI House in collaboration with the Ministry of Indigenous Peoples' Affairs held its opening of exhibition Homage to Stephanie Correia, A.A. in celebration of Indigenous Peoples Heritage Month at the National Gallery of Art, Vlissengen Road, Georgetown on Thursday night which saw a large gathering.
In her address, Minister within the Ministry of Indigenous Peoples Affairs Valarie Garrido-Lowe said that she was very pleased to be there at the event which is one of a series of planned activities slated for Indigenous Heritage Month.
She spoke of the work of the group of local artists drawn from across Guyana called "Moving Circle of Artists" whom she recognised for their raw talent and expertise guided by artist/anthropologist/archaeologist, George Simon.
The minister added that there is a need for a painter's paradise to be launched in St. Cuthbert's Mission and a farmer's institute to be housed in Moruca as part of President David Granger's vision of village improvement plans.
Giving an overview of the exhibition, George Simon said that being the founder of "Moving Circle of Artists" he is pleased about the support he continues to get from the locals since he resides in Spain.
He talked about working with young artists especially those from the E.R. Burrowes School of Art and how multi-talented they are being carvers and painters all in one.
Simon, however, recognised the need for more training for young artists as he talked about the work of the late Stephanie Correia, A.A. on Friday night and her teaching days at the Burrowes School of Art. First Lady Mrs. Sandra Granger and members of the Diplomatic Corps graced the event.
The programme saw two cultural dances by the dance group from Rupertee, Annai after which the exhibition was declared open for viewing on Friday night at Castellani House.
Stephanie Correia, A.A. was one of the most remarkable artists both in Guyana and the Caribbean and whose works are in collections all over the world.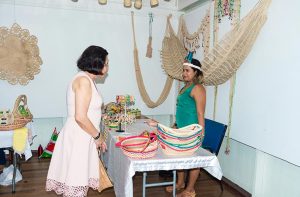 It is very appropriate to celebrate her remarkable achievements this month and coincidently, one of the main reasons that September was chosen as Indigenous Heritage Month, is that her father Stephen Campbell was the first Amerindian elected to legislative council on September 10, 1957.
Stephanie was born on April 29, 1930 on the Moruca reservation, the third of nine children to Stephen Umblina Campbell, who was the daughter of Portuguese immigrants from Madeira.
She enjoyed an idyllic childhood in a farming community being close to nature and enjoyed boating and swimming, which were really essential skills, and also learned and enjoyed planting, reaping, how to preserve fruits and foods; the making of cassava bread, farine, casareep, corn meal, and the making of coconut oil. Her family grew their own cocoa, coffee and reared livestock and poultry.
Despite doing all of that, the girl children and there were eight of them – and just one boy – were taught to excel in embroidery, knitting, weaving, sewing, painting and drawing.
Stephan Campbell often took his daughter on visits to Amerindian reservations and also on boating, fishing and farming trips, which exposed her to and awakened her interest to the rich folklore of her heritage.
Stephanie's were teachers and noticed her artistic ability which they encouraged and she did not disappoint them. Her intelligence shone through at an early age.