Police have arrested one of their own after the rank attempted to smuggle several items including a mobile phone into the Lusignan Prison on the East Coast of Demerara early Friday morning.
According to reports around 04:18hrs, the rank who was slated to work the said location, went next to the fence. While there, he attempted to retrieve a black plastic bag which was caught in the razor fence.He was observed and the ranks raised an alarm and promptly arrested him.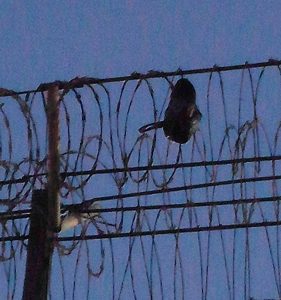 The bag contained a mobile phone, one mobile phone charger and seven packs of cigarettes. The rank was handed over to an inspector of police on duty and later escorted to a police Station.
Friday's incident occurred one day after a joint search of the Georgetown Prison on Camp Street by ranks of the Guyana Police Force and that of the Prison Service, unearthed a number of prohibited items.
Among the items seized are: 19 cellular phones; five phone chargers; one flash drive; 15 cigarette lighters; two packets of cigarette; five pairs of scissors; seven improvised weapons and 500 grams of cannabis.
In recent months , there have been numerous attempts by persons to smuggle contraband into the prisons including at Lusignan.
Critics have argued that it is corrupt officials at the prison who have been facilitating the activities.