– Volda Lawrence elected PNCR chair
– Dr George Norton and Annette Ferguson are vice-chairs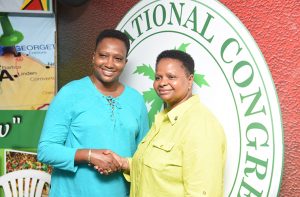 AFTER more than 15 hours of voting and tallying, Minister of Public Health Volda Lawrence was declared chairperson of the People's National Congress Reform (PNCR), even as President David Granger was returned unopposed as leader of the party.
Lawrence, who competed against former chairman Basil Williams, SC and Minister of State Joseph Harmon, secured 346 votes, while Harmon and Williams secured 287 and 183 votes respectively. Williams served as the party's chairman for three consecutive terms.
Ronald Bulkan, Minister of Communities, was the lone nomination for treasurer, while the vice-chairman positions were won by junior Public Infrastructure Minister Annette Ferguson and Minister of Social Cohesion, Dr. George Norton with 260 and 242 votes respectively.
Among those who vied for the vice-chairman posts were former general-secretary of the PNCR Aubrey Norton; Director of Sport, Christopher Jones; Thandi McAllister; Lawrence; Member of Parliament Jermaine Figueira; Genevieve Allen; and Cosbert Robert.
Aubrey Norton secured 236 votes, while Jones secured 226; Robert 16; Allen 11; Figueira 22; McAlister 84; and Volda Lawrence 244 votes, respectively. The votes for members of the Central Executive Committee will be counted today, said Returning Officer Hewley Griffith, who described his role as "rough at times". He was assisted by a team which included attorneys Patrice Henry and Cassandra Alves.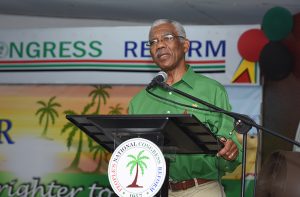 As Griffith declared Lawrence's victory, screams of "Volda! Volda! Unity! Unity!" spread across Congress Place, Sophia, as the curtains came down on the PNCR's 20th Biennial Delegates Congress.
In her acceptance speech, Lawrence pledged to ensure that there is unity within her party and across the country.
"I do not bring gold or silver, but what I bring is a heart for the people of Guyana. I pledge to walk the walk and to talk the talk to ensure that we remain in government for the next five years. I also pledge to work with our leader and leaders to ensure that we address the needs of our people and that we all work together in unity," she said much to the pleasure of her party members.
She thanked her party comrades who competed for the said position, noting that "we played a good relay", adding that their competitiveness and support demonstrate what can be done collectively, not only for the party, but for the people of Guyana.
In thanking her supporters, Lawrence said, "Let us walk with purpose and dignity and show the Guyanese people that this is the party to be a member of."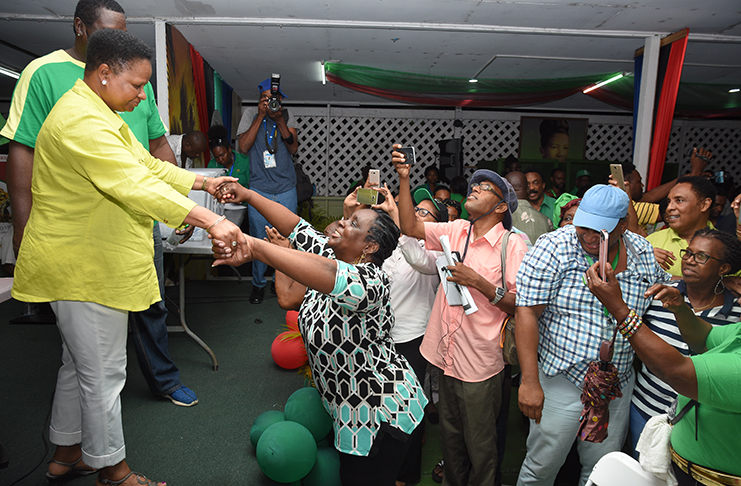 The newly elected chairman also pledged to walk side by side President David Granger.
"I will bring the women with me and we will carry you and this party onwards," she declared.
Lawrence had taken her campaign across the country to venues on the coastland, as well as several hinterland locations including Regions Eight, Nine and 10.
Earlier this month, she met with supporters in the Rupununi, including representatives from the town of Lethem and several villages including Karasabai, Katoonarib and Sawarinau. In July, Lawrence received several youths whom she noted "refuelled" her by placing their faith, hope and trust in her.
Lawrence is an accountant by profession. She has a degree in accounting from the University of Guyana and a master's degree from Gloucester University, England and is a Certified Chartered Accountant (ACCA Level II).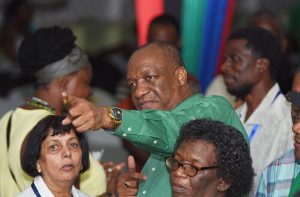 Meanwhile, both Harmon and Williams conceded to Lawrence and congratulated her on her success. They both vowed to work collaboratively to achieve their party's goals.
Williams told reporters at approximately 01:10hrs just after the declaration was made, that Lawrence's election as the party's chairman represents "a new dimension to our politics." He said that without campaigning he secured 183 votes, which he felt made a difference in Lawrence winning the elections.
"It is the time for women, the party has spoken, the woman has won and I will support the woman. It is a great win and we will move forward together," Williams declared, as he cheered for Lawrence.
Similarly, Harmon, the country's minister of state said the election of a new chairperson and other senior office-bearers illustrates the will of the party's members.
"The party has won! I think that this is a historic moment in our party when we have an opportunity to work together to build our party. I don't see a defeat here. I see that we have all won out of this."
He told reporters that all stakeholders will work in greater unity to build the party and expand upon many of their campaign promises.
"… It has mobilised our base, so you can feel the energy in here. I want to congratulate Ms. Volda Lawrence on her victory and I want to congratulate all the other members; the vice-chairmen… two of the persons who scored very high were on my campaign team," he said, applauding the maturity in which the campaigns were conducted.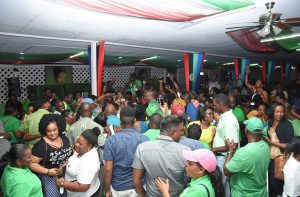 Harmon believes that the PNCR has "set a standard for the rest of this country" to follow.
Meanwhile, President David Granger in his induction and charge to the new chairman and vice- chairpersons, declared, "What a party! What a Congress!"
"We came on Friday evening and we are leaving on Monday morning. This has been a demonstration of democracy — it is my honour and pride to lead a party such as the PNCR and to lead a congress such as this," said the Guyanese leader.
He noted that the returning officer and team worked all day in very stressful conditions, but "at the end of the day they were able to earn the confidence of the membership of this party."
He added: "The process might have been slow and difficult, but it was clean and complete."
The leader said the election of Lawrence as the chairperson of the PNCR, which was founded by the late Linden Forbes Sampson Burnham, illustrates party unity and solidarity.
Granger, who has always pushed for women's empowerment, made it clear that since taking office he has been a strong advocate for women. He is the first president to appoint female senior counsel.
"For the first time this year, there have been more women national awardees than men; I can't overrule democracy. I try to ensure women are well represented at all levels of the party," he told reporters.
Meanwhile, during his induction, the head-of-state said despite speculations that there was deep and intense rivalry, his party has demonstrated that there is democracy within.
"The party is 61 years old and it is a robust party; robust democracy," President Granger said, noting that "The people understand what I need and want; I am very satisfied now that I have a female chairman and a female vice-chairman."
He called on members to put their faith in the collective wisdom of the party's membership, while pointing to the effective functioning of the party's institutions, inclusive of the constitution, General Council, Central Executive Committee and members.
"This morning, the contest is over. The local government campaign starts," Granger said, while adding that political office is not a glamorous affair.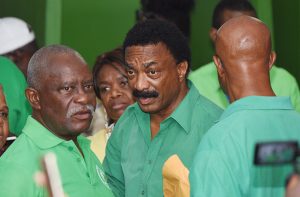 "At the end of the day we are one party and our party is very important, not only to us but to the country. The persons who have been elected understand this duty. They have been long-standing members. And each elected member is a member of my Cabinet," said the PNCR leader.
He noted that while those who contested may have been rivals in the campaign "they are colleagues and they will all be at Cabinet on Tuesday morning."
He assured congress that the members of the PNCR are cognisant of who they are and are fully aware of what needs to be done.
"We know where we are going. We have a team and under my guidance will work together. These are not strangers. I have worked with them as shadow ministers, and in Cabinet. We have a mission and what occurred over the last few days is an indication of our commitment. The people have seen democracy and transparency… we are going to the future with eyes wide open," the President added.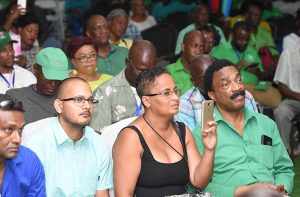 President Granger made it clear that while oil is on the horizon, it is the efforts of people that will lead Guyana into an era of greater social equality and inclusionary democracy.
He said his leadership, which comprises the new electives will lead Guyana into an era where the leadership is prepared to meet with civil society.
"I ask you the members of the public to keep faith with us just as you kept faith with us [during the congress]… over the next two years and beyond and we will lead you to that promised land. There are no victors and victims. We are all working for a common destination," the President concluded.