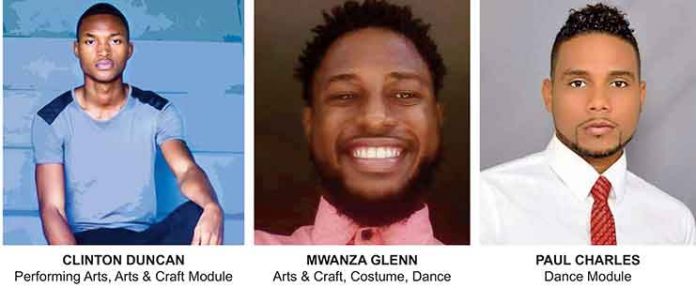 THROUGH the kind courtesy of Fly Jamaica Airways, the Department of Culture, Guyana and Roy Singh of SCB World Realty, Guyanese artists Clinton Duncan, Mwanza Glenn and Paul Charles arrived in New York to intern with the GCA's Summer Heritage Workshop Series (SWS) and the 2018 Folk Festival.
This is the third year young artists from Guyana will be interning with GCA. In addition to working with the young people, Clinton, Mwanza and Paul will themselves attend workshops to enhance their own artistic development.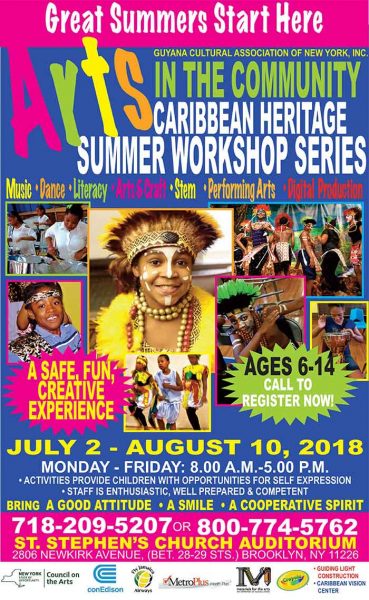 In 2017, working along with GCA's Youth Director Clive Prowell and other members of staff of the SWS, a play written by Duncan for the closing recital entitled "Celebrating Our Indigenous Heritage" was a tremendous success. A rave review of the play made the pages of the New York Times.
Duncan, an experienced writer/director, make-up artist and part-time lecturer at the National School of Theatre, will again be working on the Performing Arts Module with the youth and has already written an exciting short play entitled "The Campfire Chronicles."
The play reflects the GCA's 2018 theme "Ma'iupe -working together." THE SPIRIT OF SOLIDARITY within Guyana's Festival Arts. Glenn, who is a fashion designer, choreographer and Visual Arts teacher, will be working along with other Counsellors on the Dance Module and will assist with costume making for the closing recital. Dancer, choreographer Paul Charles will be responsible for the Dance Module of this year's SWS.
For the 10th year, the Guyana Cultural Association of New York, Inc. has included an extended programme for children in its events for the season. This programme is part of our Summer Heritage Workshop Series, which is open to all children of the community.
The programme is housed at St. Stephen's Church Auditorium 2806 Newkirk Avenue, Brooklyn, New York. It commences on Monday, July 2 and ends on Friday, August 10, 2018. Each day's activities run from 8 am to 5 pm. The programme consists of: Music, Dance, Arts and Crafts, Science and Communications, as well as the module for the older students "Introduction to Film Making" which will be conducted by the Caribbean Film Academy.
About the Summer Heritage Workshop:-
The series includes:
Music: Folk songs, folk music, ring play, gospel, music theory and practice and the history of music in the Caribbean Diaspora

Dance: Theory of movement, history of dance, dance form and meaning related to the Caribbean Diaspora, instruction and practice of specific movements.
Arts and Crafts: Theory of art in general, art forms related to the environment of the Caribbean, found art.
Science: Science in the art of construction of toys, including kites, cooking and observation of and interaction with the environment, including space.

Communication: Understanding communication, voice and diction, action, the written word, publishing (the chapbook)
In addition, the activities of each week are literacy based with a critical inquiry component. The use of an on-site library is planned.