–as six Region Six top achievers prepare to storm QC
RANJIV Babulall of Port Mourant Primary emerged the top performer for Region Six (East Berbice-Corentyne) at this year's National Grade Six Assessment (NGSA).
The confident lad, who aspires to become a Biologist, gained a total of 520 marks and secured a spot at prestigious Queen's College.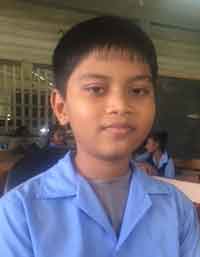 The young man and his teachers were unaware he was the top student in the region, so when the news broke, he was visibly speechless but managed to compose himself.
His classmates, however, broke into thunderous applause and surrounded him, offering their congratulations and lots of hugs.
When he was able to regain his composure and break free of the mob that surrounded him, he ran to his teacher, Ms Zeena Mangru and gave her an emotional hug.
Ranjiv, whose family is originally from Essequibo but now lives in Adventure Village on the Corentyne Coast, started school at Port Mourant Primary in Grade Two.
He said the transition was emotional, and that he actually cried a few times initially, but was eventually able to settle in and make new friends.
Those new friends, he said, were very supportive, even to this day, and he wouldn't trade them for the world.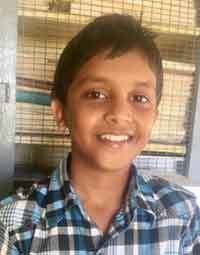 His sister, an 'A-lister' herself, had topped the said school back in 2015, so he'd vowed ever since to equal or better that feat.
He credits his success to the Almighty for giving him strength and guidance, and his parents and teacher, who were instrumental in motivating and encouraging him to be the best he could ever be.
Recalling the journey to success, young Ranjiv said his passion for reading was very helpful, and he managed to strike a balance between his love for cricket, video games and his studies.
Explaining why he's chosen to become a Biologist, Ranjiv said he simply loves nature, and would take time out to study animals and plants in their surroundings while trying his hands at "Do-it-yourself (DIY)" experiments to better understand how things work.
His advice to other students is, "Do your best; encourage yourself and have confidence."
SECOND PLACE
The celebrations at Port Mourant Primary again erupted as Michael Moorsalin, Ranjiv's
classmate, was announced as the region's second top achiever with 518 marks and a place at Queen's College as well. There were 'high-fives' all around as children from other classes joined in the celebrations.
Moorsalin, who is from Brighton Village, has his sights set on becoming a neurologist and is beyond excited, as his dream since nursery level of attending Queens College has come true.
He said the road to success was a tough one, as he had had to give up television, games and other leisure activities to focus on his studies. But, he said he has no regrets, since the reward is well worth it.
Like his classmate, Ranjiv, Michael, too, credits God, his parents and teacher for his success.
Class teacher, Zeena Mangru of Rose Hall Town, was all smiles and tears of joy for her students who secured the two top spots in the region.
She said when she took over the class in Grade Three, she immediately knew the students had great potential, and worked with them to help them realise that potential, and is happy that they were able to come out on top.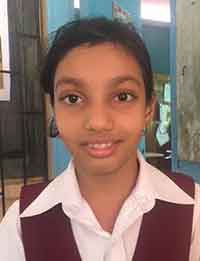 Meanwhile, Headmistress June Fraser said a lot of credit has to be given to the teachers who went beyond the call of duty by coming in on weekends, even on Sundays, to ensure that all the children were properly prepared for the examinations.
She also congratulated the parents and guardians for assisting in the preparations, and said the school is very proud of all its students, not only the ones who made it to the top, and remains committed to delivering the best level of education for all.
IT'S A TIE!
Over in nearby Rose Hall Town, Anisa Hafiz of Rose Hall Primary copped the Number Three spot with 515 marks, a position she shares with Quacy Issacs of All Saints Primary.
Hafiz said when she was called into the office, she immediately thought she was in some sort of trouble, but was soon relieved when she was told she was awarded a place at Queen's College, and was the third top student for the region.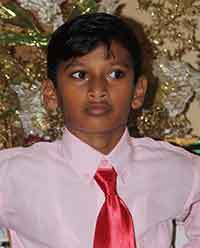 Upon hearing this, Anisa said she shreiked with joy, and said a quick prayer, thanking God for helping her to be successful.
But unlike most top students who aspire for high-paying jobs, Anisa wants to become a teacher, as she believes that by so doing, she will be able to help a lot more people to achieve their goals in life.
And, being the grandaughter of the community's Imam, she has already begun assisting the younger kids with religious classes, and has come to realise that teaching is something she truly enjoys.
HOUSE DOCTOR
Meanwhile, Suzanna  Khemraj of Cropper Primary and of Courtland Village is tied with Frank Waddel of All Saints Primary in New Amsterdam for the Number Five position, earning themselves a spot at Queen's College. The aspiring doctor credits her parents, God and her teachers coupled with long hours of studying for her success.
Her classmate, Arnold Anthony Doman of Albion, with 511 marks is tied for the Number Eight spot with Allan Bangari of Port Mourant Primary.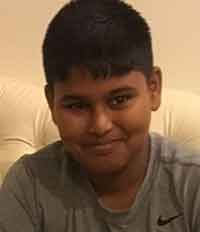 Doman wants to become a mechanical engineer, while Bangari, of Haswell, Port Mourant wants to become a mathematician. Both lads said long hours of studying and extra course work were key to their success. Both were awarded a spot at Bishops High.
Aaron Subnauth, of Number 57 Village and New Market Primary is tied with Divya Singh of Tain Primary and Erza Minty of Sheet Anchor Primary to round off the Top Ten achievers for the Region.
Subnauth, who wants to become an Attorney to help ensure those without adequate finacial resources are given a fair trial, said daily revisions were the key to his success.
He noted that he did not have to burn the proverbial midnight oil too much, as he put in a lot of work after school with the daily lessons.