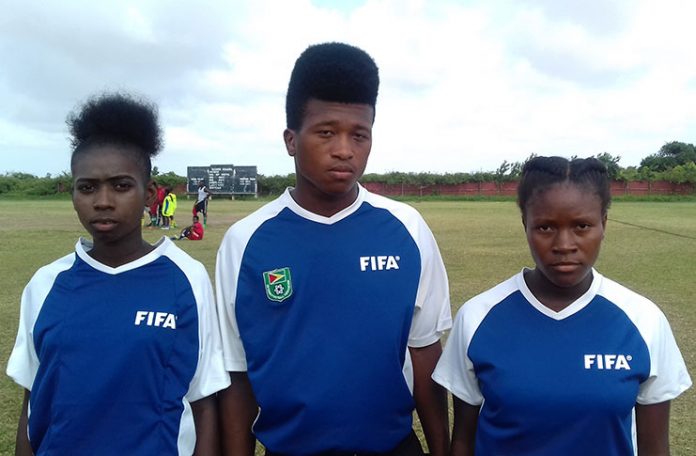 By Elroy Stephney
THE Essequibo Coast/Pomeroon Refereeing Association last Saturday handed the licence to operate to three new referees who made their debuts.
They are Ashantie Smith 16, Janelle Peters 17 and Abraham Chester 20. They officiated in the Essequibo/Coast and Pomeroon Football Association's sponsored Under-15 competition at the Anna Regina Community Centre ground.
The officials had undergone extensive training over a period of time under the association with senior referees Ranzolin Durga, Colin Belfield and Rawl Griffith.
History was also made as Ashantie Smith and Janelle Peters are the first batch of female referees to emerge from the Essequibo Coast.
Both served as lineswomen in the two matches and were well received by the crowd. They have since been congratulated by the Essequibo/Coast and Pomeroon Football Association (ECPFA) and the Essequibo/Coast and Pomeroon Refereeing Association, as they commence what is expected to be a long and rewarding career in the sport.
Meanwhile, GFF executive member Maxine Stewart also extended congratulations to the trio on behalf of the governing body. In an invited comment with Chronicle Sport, Stewart stated that she is quite happy that more young people are committing themselves to the sport and every effort will be made to support them at the highest level.
She further revealed that there are exciting plans on stream to develop Essequibo's football, including sustained training at all levels for the local footballers as well as for officials including coaches, referees and administrators.
The ECPFA will also seek to establish an office soon, to facilitate the efficient and proper functioning of the Essequibo Football Association, according to Stewart.