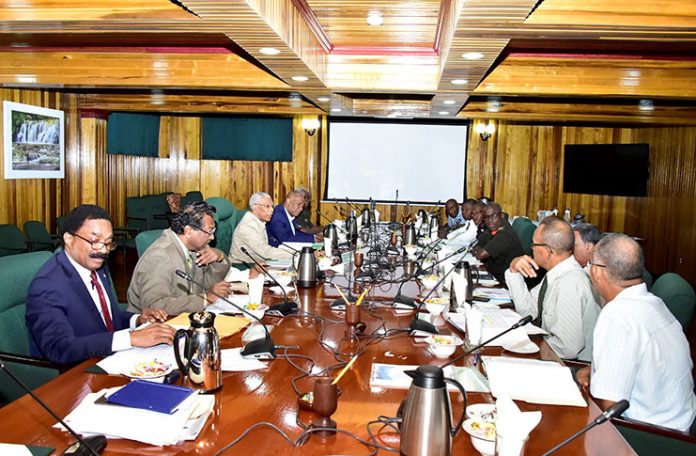 PRESIDENT David Granger on Thursday morning convened a meeting of the National Security Committee to address problems of crime and security, review the security sector's 2017 performance and to plan programme for 2018.
The meeting was attended by heads of the security agencies: Prime Minister Moses Nagamootoo, Minister of Public Security, Khemraj Ramjattan; Minister of State, Joseph Harmon and Attorney General, Basil Williams.
Guyana Chronicle was told that the meeting which lasted for well over four hours zeroed in on national intelligence; the prison system and anti-narcotics. According to a sources part of the review also dealt with the road traffic situation. Thursday's meeting follows report by Commissioner of Police, David Ramnarine that crime is down and Ramjattan telling the National Assembly Wednesday evening that the security forces have done a commendable job when compared with a number of Caribbean states.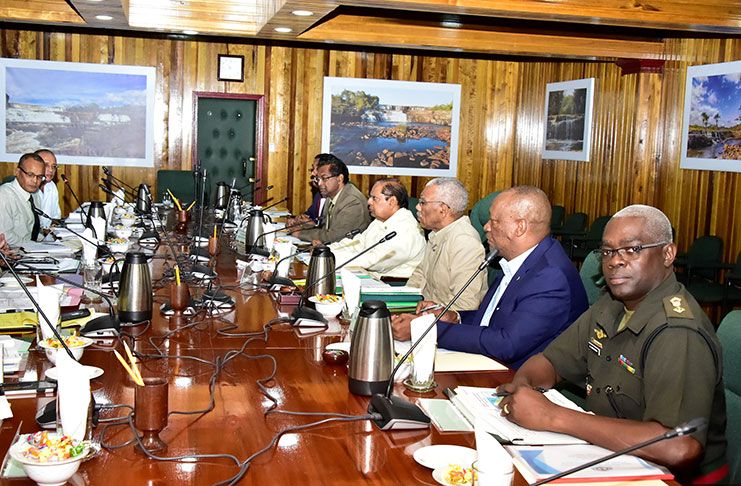 Though tight-lipped, the source said it was the single longest security meeting of the coalition since taking office. "What it shows is the administration consistency in taking a hands-on attitude on all areas of the security sector," the source added.
Earlier this week the Guyana Chronicle reported that the Guyana Police Force (GPF) solved 77 percent of all murder cases last year, the highest percentage achieved by the police force in years. Ramnarine told a news conference last week that there were 116 reports of murder in 2017 as against 142 in 2016.
The figure represented a decrease of 18 percent, but what was more significant is of the 116 cases of murder, 88 were solved. "This percentage has been very high for the Guyana Police Force (GPF) and for this country for quite a long while and we believe this ranks among the highest solved or clear-up rate anywhere in recent times," he said.
Speaking about the 11 per cent decrease in serious crimes, the acting Top Cop said that at the end of the year, the figure was around 10 per cent. He commended his ranks for the extra work they put in during the holidays to achieve a further reduction." He also expressed concern about the troubling spate of carjackings, with the perpetrators showing a preference for Toyota Premio and Toyota Allion brands.
According to Ramnarine, the carjackings seem to have some sort of "criminal industrialised concept, with apparent collusion between several players in the criminal enterprise. "In the first two months of the last quarter of 2017, we saw an increase (in carjackings) which was worrisome. In 2015, there were 41 cases, there were 36 in 2016, and 47 (carjackings) in 2017. We note of the 47 cases, in 2017, 16 (of the stolen vehicles) were Toyota Premio, and eight were Toyota Allion," he said.