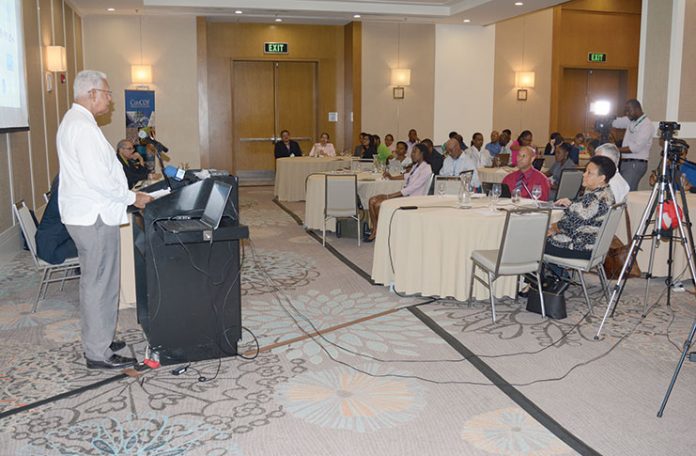 –Minister Holder tells regional climate workshop
AS the Caribbean seeks to further develop its weather-monitoring capabilities, new projects must be implemented to further enhance forecasting and early warning, and expand the water resources- monitoring network
This is according to Agriculture Minister Noel Holder, during his address at the Caribbean Regional Climate Outlook Forum (CariCOF) two-day workshop which commenced Wednesday at the Marriott Hotel.
The new projects, the minister said, will be in direct support of the Region's 'green-energy' thrust and disaster risk reduction drive, while continuing the accumulation of basic climate data which is vital for understanding past and current climate change.
"Climate-monitoring is considered absolutely necessary to provide important guidance in order to navigate in the more uncertain world of climate change, and attempt to adapt to those changes effectively and in the most cost-effective manner," Minister Holder said.
He opined that the effects of climate change on Guyana can be handled in two distinct ways, these being by either mitigating its effects, or employing long-term adaptation measures to minimise its effects, while ensuring continued agricultural development.
"Various scenarios of any immediate crisis can be predicted, therefore, press on with the development and delivery of real-time seasonal climate forecasts and interpretation across relevant time and spatial scales," he told the gathering.
Noting that mitigation ideally involves an increase in the number of pumps and pump stations, kokers, canals and sluices to increase ability to remove excess water from the land, Minister Holder said:
"Mitigation does not really assist in improving the country's economy, but rather prevents economic losses resulting from excess water on our agricultural lands due to rising sea levels.
"This implies that to afford the additional cost to the nation's agricultural economy, new coastal lands must be brought under the plough. It will also require that we effectively utilise our coastal assets in an economically and financially sound manner."
He, however, said that all efforts in the area of climate change, be it mitigation or adaptation, would be futile in the absence of an efficient and effective hydrometeorological service to catalyse and promote these activities.
The workshop saw in attendance UWI's Ainsley Henry; Dr. Yves Robert Personna of the Caribbean Development Bank (CDB); and Chief Hydromet Officer, Dr. Garvin Cummings.