THIS tradition has persisted for more than decades – the annual Diwali motorcade – and with each passing year, participants come together to create beautiful, moving displays seeking to illustrate the significance of the festival.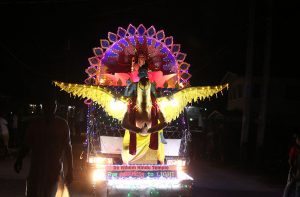 This year, the grand motorcade began, as it usually does, at the Shri Krishna Mandir in Campbellville. Twenty-seven splendidly lit and decorated floats made their way along Sandy Babb Street, departing for their journey to the La Bonne Intention (LBI) Community Centre ground. As the Guyana Chronicle manoeuvred through the streets as the motorcade was passing, it was quite evident that persons were completely absorbed in the procession, many taking photos or videos to feast their eyes on later.
With innovation and modernity stepping in more and more each year, the tradition of floats built upon horse carts has given way to those mounted upon cars, tractors and trucks, what was previously a procession primarily featuring horses and other pack animals, transforming into the titular motorcade. This year however, one group sought to turn back the hands of time and joined the motorcade with their inspired, horse-drawn carriage. The Golden Fleece Mandir went for a balance between tradition and modernity with a tractor-mounted float led by illuminated pseudo-horses.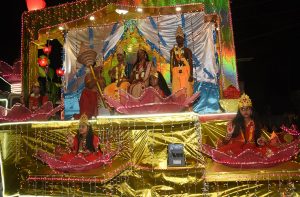 The usual representations of the various elements of the story behind the festival were all there. There were several floats depicting the Lakshmi Ma, the goddess of light and prosperity with whom the festival is most associated. Also represented was hued Lord Rama with his arrow and bow, his wife Sita, his brother Lakshmana and his faithful servant Hanuman illustrates another belief of the genesis of Diwali.
The crowd's favourite however, seemed to be the larger float created by folks at the De Willem Hindu Temple because of its unique presentation of having Lord Vishnu seated atop his legendary mount, the mythical bird Garuda protruding in this instant from the face of a truck.
While many patrons lamented the controversy surrounding the actual date for Diwali, generally Hindus and non-Hindus alike called for unity.