MURDER accused Marcus Bisram may be on his way to Guyana after a Brooklyn, New York Judge on Thursday ordered that he be extradited to face murder charges here.
Bisram, 27, is wanted in Guyana for the murder of Berbice carpenter, Faiyaz Narinedatt, whose lifeless body was found on the Number 70 Public Road on November 1, 2016.
Reports from New York are that Judge Peggy Kuo ruled that the evidence presented to her was sufficient for the accused to face trial, had they been committed in the US.
The judge also made reference to the extradition treaty which exists between Guyana and the US.
It is alleged that on the night of the murder, Bisram was hosting an after party for a community policing group during which he reportedly made sexual advances to Narinedatt, who was present at the party, but was rejected.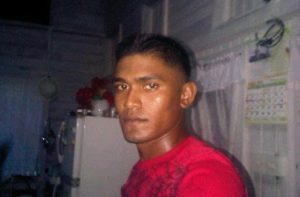 After a savage beating allegedly at the hands of Bisram's conspirators, Narinedatt's body was placed on the public road and ran over by a car to make his death appear to be a result of an accident. Soon after, seven persons were arrested with two allegedly fingering Bisram as the mastermind behind the act.
Five other men: Orlando Dickie, said to be Bisram's bodyguard, Niran Yacoob, Radesh Motie, Diodath Datt and Harri Paul Parsram were this year arraigned in connection with the death of the carpenter.
Sharmilla Inderjali, the mother of Marcus Bisram, and another woman, Maryann Lionel are currently before the courts for allegedly attempting to bribe a police officer in connection with the case.
Reports indicate that after the killing, Bisram returned to the US where he lives in Arverne, and where he created the Marcus Brian Bisram Foundation, which is focused on "making better, brighter futures".