— as CH&PA forced to halt Sophia demolition exercise
SEVERAL illegal buildings sitting on government's reserve were demolished on Thursday as the Central Housing and Planning Authority (CH&PA) with support from the Public Infrastructure Ministry, moved in on squatters residing in South Liliendaal in the vicinity of 'A' Field Sophia.
The Guyana Power and Light (GPL), Guyana Water Incorporated (GWI) and Lands and Surveys had also lent their support.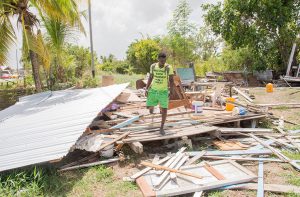 The demolition exercise – executed under the watch of armed ranks of the Guyana Police Force – was carried out one week after squatters in the area were served with letters by CH&PA, indicating that they must vacate the area or they will be removed.
According to a CH&PA official on the ground, the exercise targeted buildings which were abandoned or recently erected, and those owned by squatters who have been allocated house lots but have not made any attempt to relocate. A total of 21 structures were demolished, the housing authority reported on Thursday afternoon. The exercise was planned after extensive consultation with sister agencies and community representatives.
Equipped with sledgehammers, CH&PA workers from as early as 08:00 hrs, began to tear down the illegal structures in full view of residents who had swarmed the street, not only to get a glimpse of the undertaking but to voice their objection.
When the Guyana Chronicle arrived on the scene, 27-year-old Mark Norton, a father of four, was voicing his concern. "They ain't give me no notice or nothing, they just come and start break down meh shop," Norton said as he complained bitterly.
According to Norton, he was at work when he got the news that his shop was dismantled. He said that he sold fish and chips along with beverages to supplement the little he earns from his day job. "This is ridiculous!, I have a family to sustain," the young man vented.
Even as thenGuyana Chronicle spoke to Norton, all eyes were fixed on the shack that 18-year-old Angela Regis lived in, along with nine other occupants, the majority being children.
The demolition team had threatened to rip the house down. For little over a year, the pregnant teen, has been living in the shack along with her 21-year-old reputed husband, her one-year-old baby, and several other relatives.
Regis was among those who claimed that they were never issued with any notice by the housing authority.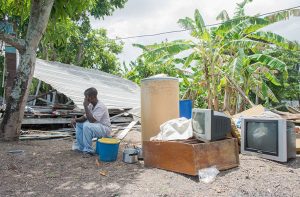 "If they break this down, I ain't get nowhere else to go," the pregnant teen said. Issued with a fresh letter, Regis and her family now have up to Monday, October 16, to remove from the government's reverse.
Regis' grandmother, Agatha Valentine, said the teen's mother, who is also a squatter, had applied for a plot of land since 1997 and though she frequented the housing authority, to date she has been unable to secure one. As the family grew, Regis ventured on her own along with her reputed husband.
"Give the people a chance, they are young. Young people got to get a chance to get place to live. They are making children, they have to get place to live," Valentine opined.
Fifty-six-year-old Fitzroy Blair, who lives a stone throw away from Regis, was also given up to Monday, October 16 to relocate. He has been squatting in the area for just over four months. He has been living there with his wife, son, daughter-in-law and grandchild.
WAS THROWN OUT
As he wept bitterly, Blair said he constructed the house on the dam after he was forced to move out of a rented property. "I ain't trouble nobody, I come here peacefully because I don't have nowhere else to go. I use to live in a rent house, the landlord raise the rent 50 per cent, I told her I can't pay it, but she said well I have to leave her house," he explained.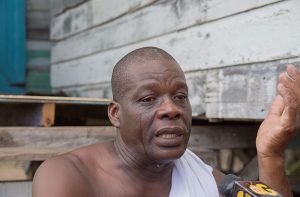 Claiming that he was never issued a letter from the housing authority indicating that he must remove from government's reserve, Blair said upon hearing the demolition team was in the area, he sought clarification on the squatters being targeted.
"When I see them breaking up buildings there, I went to them, they told me that they are breaking people that they give lands to and had notice and don't want to move. I had to work, I stayed away from work, I does do construction, just to make sure I am here when they reach here," he explained.
Blair said much to his surprise; workers from CH&PA would minutes later inform him that his house would be dismantled.
"They say I have to move. So I asked them why me, what have I done. They don't have an explanation but I have to move. I came over here, and I start, I deh here peacefully, nobody never come and tell me nothing, nobody never come and ask me nothing, I never interfere with nobody, they come here, they start breaking down throwing down all my barrel," the 56-year-old man said as he wept.
NOWHERE TO GO
"They give me up to Monday…. Now where should I go? What can I do from now to Monday? Where should I go?" he questioned while adding "I have applications in there, two years now and I can't get nowhere, if they want break me down, send me somewhere."
But while Regis and Blair were able to get an extension, Robert Chesney, who works at the Sophia Exhibition Centre, was not so lucky. He was at work when he was informed that his house was pulled apart.
Chesney told this newspaper that he has been living in the area long before the Great Flood of 2005. Cognisant that he was illegally occupying the dam, Chesney said that it was under the Bharrat Jagdeo Administration he applied for a plot of land, but his application got lost in the system. Based on documents seen by Guyana Chronicle he reapply for land in July, 2017.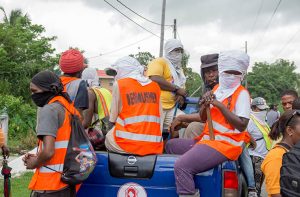 Chesney said Thursday's action by the housing authority came as a major surprise because he was never served with any letter, and was waiting to be allocated a plot of land to move. "I don't know where to turn; I don't know who to turn to. I have nowhere to go," he said.
Young Jamal Dennis, fought the tears back as he spoke to this newspaper. Originally from Berbice, Dennis relocated to Sophia a few months ago to care for his father, Cleveland Dennis, a retired soldier, who had undergone a surgery.
"I ain't studying me, I am studying where my old man will stay because he ain't get nobody. Is de other day me old man tek surgery, I come fuh look he after, where he gun stay now?" Jamal questioned. Neither Jamal nor his father was at home when their home was destroyed.
RESISTANCE
CH&PA had also targeted illegal structures in "B" Field Sophia, but had to abandon the exercise after residents there, who were armed with cutlasses and other weapons, put up a resistance.
Liliendaal Civil Defence Commission (CDC) Chairman, Clayton Hinds, who was present at the time, made it clear that squatting is illegal and it is necessary to remove the squatters.
Hinds posited that the illegal structures erected on the government's reserve have been negatively affecting the drainage and irrigation network in the area.
"Secondly, there is a plan I understand from the government to improve the living conditions of people in the area,and to be specific I have been advised that they will be spending some US$30M to improve the drainage facility, fix the cross roads, putting lights and other facilities and try to see if they can provide a programme to improve some of the homesteads that are not adequately equipped with sanitary facilities," Hinds posited.
He stressed that removing the squatters is necessary to facilitate development in the area.
While many of the affected persons argued that they were never issued with notices, Hinds testified that they were, not once but many times.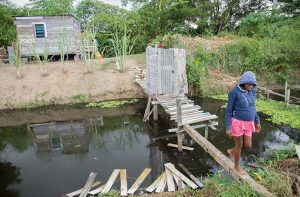 "The people living on these plots were approached many times by Central Housing and Planning Authority… to dismantle, but they didn't… some people have developed that kind of attitude, conveying to the general public that they have a right to do what they are doing."
But while the General Secretary of the Alliance for Chance (AFC), Marlon Williams acknowledged that squatting is illegal, he was the first to admit that the matter could have been dealt with in a better manner.
"When you come on the ground and you actually see what is really transpiring and you see the human effects – I just witnessed eight or nine children on a bridge defending their home.
"I recognise that we have to address the issues of ineffective regulations, and I recognise that we have to address the issue of people just living on the dam, but we need to be a little bit human," Williams said.
According to the AFC general secretary, the squatters should have been allotted lands and materials to assist with the construction of their homes ahead of the demolition exercise as was done in the past.
"I believe that in instances like this, we have to come up with a more human methodology of dealing with these issues. We need to aid them. We are all Guyanese we need to aid them. Even if it is a small 2×2 house… we need to show our humanity a little more," Williams stated.
Thursday's demolition exercise was the second such exercise conducted by the CH&PA within a year. The agency was forced to abandon an exercise on October 28, 2016, after squatters became aggressive towards staff and law enforcement officers. During that exercise also, the windscreen of a vehicle belonging to the agency was destroyed.
CH&PA in the last five months intensified its Anti-Squatting Campaign, warning persons to desist from this illegal practice. Persons engaged in this practice and who never applied for Government Housing Solutions were invited to lodge an application with the housing agency. In addition to these initiatives, several billboards warning against squatting were erected in areas where squatting is widespread.