THE Federation of Visual Art in Suriname (FVAS) on Tuesday launched a three-day Suriname Art Expo at the Umana Yana, Georgetown, placing on display a wide range of what could be classified as being among the finest works of art.
The FVAS which, for the last five years has focused on mainly national community art projects and international exchange programme, because of an interest in the latter, took the initiative in an exchange programme with neighbouring Guyana.
The result is the 'Suriname Art Expo 17', a breath-taking display of colourful, intricate and thought stimulating creations and presentations about art in Suriname, currently being staged here.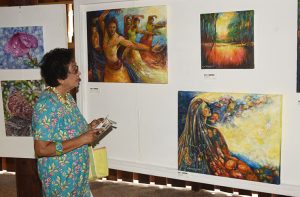 Meanwhile, leading members of the visiting delegation are President of FVAS George Struikelblok; Charge d'Affaires, Embassy of the Republic of Suriname Lieselle Blankendal; and madamme of ceremonies Angela Angela Salmo.
Also officiating were Caricom officials: Assistant Secretary General (ASG) for Trade and Economic Integration, Joseph Cox; Deputy Programme Manager (Culture), Riane de Haas Bledoego, as well as local Director of Culture, Tamika Boatswain; members of the diplomatic corps, among other representatives of missions.
The president of the FVAS said he considered it a great honour for the FVAS delegation to be hosted in this beautiful country, Guyana.
He recalled that during the Guyana Art Competition of 2015, he presented the goals of the FVAS and it was out of that engagement that the idea of having Suriname stage an expo here was mooted.
GOOD RELATIONS
George said that since Carifesta 13, organised in Suriname, there has been ongoing good relations between artists of the two countries.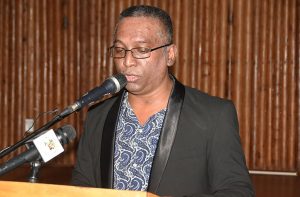 "Having an exchange between both countries was always a topic, since being here means an opportunity to network, exchange culture, learn from each other's presentations and to visit artists' studios," he said.
The FVAS president said Suriname is looking forward to the return visit of the Guyanese artists.
And noting that 'art and culture' bring people together, he added that such an exhibition is very important, and is the start of a more extensive collaboration for the art and cultural development of both countries.
Moreover, he proposed that "to make it complete", French Guiana needs to be brought into the equation "Because in the world, we are known as 'The Guianas'."
He thanked everyone – both from Guyana and Suriname — as well as their sponsors in Suriname, who contributed to the realisation of this very special art exhibition.
Lieselle Blankendal, who spoke on behalf of the Surinamese Embassy, sees art and culture as essential to any society, noting that it serves as a source of creativity.
"Artists create work to show what they think, experience, feel and see. It says a lot about the cultural level of a country … and there are special values that can be distinguished from art, namely: they promote social cohesion, help us pursue a common path, articulate and represent the value of our democratic identity and provide an open and connected society."
And as it relates to exchange programmes, Blankendal affirmed that an exchange in the field of art is to be seen as very special, since art is a universal language that is understood by everyone from their own experience and emotion.
In Suriname, besides organising community art projects, the FVAS also has great interest in exchange programmes that go beyond borders.
SHARING IDEAS
"This international exchange with Guyana gives us the opportunity to showcase what Suriname has, and with regard to Surinamese art – where we are; how we want to strive to get to a better level and to share ideas where we can learn from each other," she concluded.
Taking to the podium, ASG Cox took note of the venue – the Umana Yana, and referred to it as "beautiful, and a reflection of the efforts made in Guyana to safeguard the cultural heritage of the Caribbean".
He congratulated the Governments of Guyana and Suriname, through their respective directors within the Ministries of Education and Culture and commended their roles in encouraging initiatives from Arts communities.
Such framework, he said, promotes social cohesion and inclusiveness and contributes to wealth-creation and reduction of poverty.
Elaborating on the role of culture, the ASG noted that culture is seen as being a pillar for building economic and social resilience.
It promotes social cohesion and inclusiveness and contributes to wealth-creation and reduction of poverty, as well as strengthening Caricom's identity and spirit of the Community.
A unifying force in regional events, it is important to the success of the Caricom Single Market and Economy.
ASG Cox noted that the Caribbean is celebrated for its rich cultural diversity and its achievement in various cultural expressions, such as literature, music, and the performing arts.
The Surinamese Visual Arts Exhibition, the ASG observed, comes at a time when 'we' in the Caricom community are preparing to stage the 13th Edition of the Caribbean Festival of Arts to be held in Barbados, from the 17th to 27th of August this year, under the theme, "Asserting our Culture, Celebrating Ourselves".
And Guyana's Director of Culture, Tamika Boatswain, who declared the exhibition open, welcomed the visiting Suriname Federation of Visual Arts to 'This Land of Many Waters' and in particular to the historic building – the 'Umana Yana', which she describes as "an iconic representation of our indigenous cultural heritage".
RICH LEGACY
And of the visual arts exhibition, the director said that Guyana is excited to share a part of the Suriname's 'rich legacy' in the part of their artistic pieces.
"Art, like music, knows no barrier and brings people together… no matter how well the art takes the form of a photograph, painting, a sculptor or drawing, it allows the artists to express themselves and communicate with others."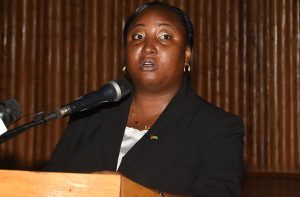 She said the exhibition offers an opportunity for people to see how the artist views the world, and more particularly their country, the people and the culture that enriches it.
"In addition, the artists (whose work we proudly view) are providing a legacy from which generations to come will benefit," the director concluded, congratulating the FVAS on their excellent display of creative pieces of art.
The works of 14 artists are being expertly showcased on acrylic canvas. They include Anand Binda, Robert Enfield, Glenn Fung Loy, Soeki Irodikromo, Sri Irodikromo, Dakaya Lenz, Dhiradj Ramsamoedj, Ardie Setropawiro, George Struikelblok, Sancha Boksteen-Sullivan, Manuela Tjin A Soe, Patrick Tjon and Kit-ling Tjon Pian Gi.