By Francis Quamina Farrier
There is an on-going Art Exhibition by veteran Guyanese artist, Dudley Charles, at the Guyana Embassy in Washington, DC, specially mounted for the observance of Guyana's 47th Republic Anniversary. Some of the classic paintings of the talented Charles were put on display at a special ceremony on February 24, 2017.
In his address to the gathering, Guyana's Ambassador to the United States and Permanent Representative to the Organization of American States, Dr Riyad Insanally, expressed his delight as he welcomed those who attended the Launch Ceremony.
"The Embassy is truly honoured that this great Guyanese artist has graciously agreed to display a small selection of his extensive portfolio, to help us mark this anniversary," the ambassador stated. Dr. Insanally further said that although "the space available at the embassy was inadequate to play full justice to Charles' pulsating talent, we cannot help but be grateful that he has chosen to enhance and brighten our modest home away from home, with his mastery of colour and his exploration of time and space."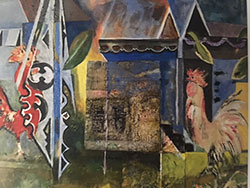 Born in Plaisance on the East Coast Demerara in 1945, Dudley Charles is a contemporary of fellow villager, International songwriter and entertainer, Eddy Grant. He received formal training as an artist from famous Guyanese artist Donald Locke. A former staffer at the Ministry of Culture, Dudley Charles, also developed his God-given talent, working with Denis Williams, Director of Art at the Department of Culture, during the early years of Guyana's Independence.
One of the early Art Exhibitions by Dudley Charles was in 1967, at the Chase Manhattan Bank, which was located on the ground floor of the Bank of Guyana in downtown Georgetown. Along with art colleagues Ron Savory and Cletus Hendriques, Dudley was also very active in the mounting of the Art Exhibitions for (the first) CARIFESTA 72, here in Guyana. That first CARIFESTA is still regarded by many as the greatest, with thousands of cultural workers and enablers, including the Guyana government of the day. Dudley Charles, as a staffer at the Department of Culture was one of those who contributed to its success.
In 1977 while still a Staffer at the Department of Culture, he represented Guyana at FESTAC77 – The Second World Black and African Festival of the Arts and Culture. Held in Lagos, Nigeria, FESTAC77 attracted 17,000 artists from 57 countries around the world. In those early years of Guyana's nationhood, when there was a strong patriotic surge in every facet of nation-building, Dudley Charles was one of the young rising stars in the art world.
A year later, in 1978, after FESTAC77, he mounted a very attractive one-man Exhibition at the Public Service Union (PSU) Hall on Regent Road, Bourda in Georgetown. One of the popular paintings at that Exhibition was "Image Old House" which celebrated Guyana's wooden heritage. Dudley Charles has also won First Prize back to back of the National Visual Arts Competition in 1986, 1987 and 1988.
Since migrating to the United States in 1989, Dudley Charles has returned to Guyana twice "to check out things" in his homeland. However, in answering my question with his usual charming chuckle, he said that he has never been officially invited to any national event or celebration in Guyana or to impart his knowledge to young up-coming artists.
Meanwhile, as his current Exhibition at the Guyana Embassy in Washington, DC, is approaching its conclusion, he has expressed the view that the paintings which he has selected, gives the viewers, especially those Guyanese who have not been home for some years, that they "would recognize certain images which they grew up with."