AFTER almost seven years on the run, Charles 'Frenchie' Chapman was arraigned before Chief Magistrate Ann McLennan at the Georgetown Magistrates Court for the murder of his reputed wife, whom he allegedly killed in 2009.The 61-year-old farmer was nabbed on Sunday in Limlair Village, Corentyne, where he was arrested for wounding, but an alert policeman stationed at Whim Police Station knew the suspect and recalled that he was wanted for murder and informed his superiors. Chapman was not required to plead to the charge, which alleged that he on March 21, 2009, at Herstelling, East Bank Demerara, murdered his reputed wife, Savitri Arjune.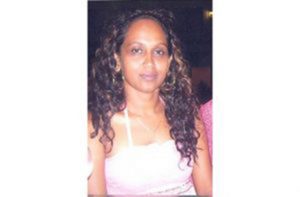 The unrepresented man was remanded until February 3, 2017, since the police file is still incomplete. Deputy Commander of 'B' Division, Errol Watts, had told this newspaper that based upon reports, Chapman was taken to Central Police Station, in New Amsterdam where he submitted a written statement confessing to the crime which left Savitri Arjune, a mother of two, dead after she sustained a stab wound to the heart, among other injuries.
On the fateful day, just after 06:00hrs Arjune, who had shared an eight-year relationship with the suspect, left her home at 382 Herstelling, East Bank Demerara, with the intention of catching a minibus to get to work in Georgetown. As she walked along a partly deserted roadway, the suspect emerged, allegedly armed with a knife, which he used to inflict the fatal wounds. The woman collapsed and he calmly boarded a minibus, which was parked nearby, and drove to Peters Hall, East Bank Demerara, where he left the vehicle.
The incident stemmed from allegations of infidelity. Chapman, a former seaman and a soldier, claimed he had left his wife and children and had commenced a common-law relationship with the now deceased woman. However, she squandered his money and rejected him.