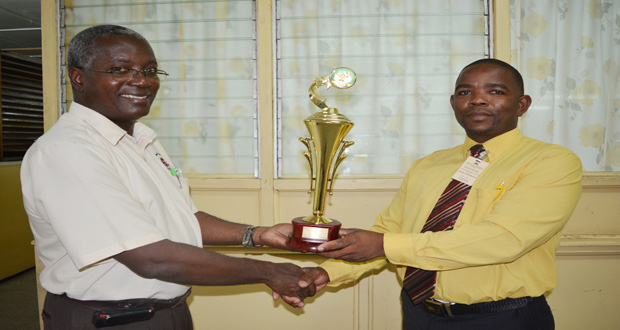 PLANS are moving apace for the hosting of the Region Four Science, Mathematics and Technology Fair.
Set to commence on March 2 at the Diamond Secondary School, the two-day event will attract close to 133 schools from across the region.
Currently, registration is open, but will be closed by mid-February for hosting of this much-anticipated and very competitive event, which will see nursery, primary, lower secondary and upper secondary schools competing in a total of 25 categories. Students in all categories are expected to exhibit innovative projects and ideas.
In the Nursery division, there are two categories: Mathematics combined with Science, and Environmental Science combined with Arts and Craft. In the Primary division, there are four categories: Craft and Visual Arts, Environmental Science, Mathematics, and Science.
Students competing in the Lower Secondary division can compete in 13 categories, while those in the Upper Secondary division have a maximum of 12 categories.
According to sources, more than 75 trophies will be awarded to the winners. In support of the fair, the Guyana National Newspapers Limited (GNNL) has donated a trophy.
While the Region Four Fair is set for March, the regional fair for the District of Georgetown is slated for February 4-5 at Queen's College. The best of the best from these events would be selected to compete at the National Science, Mathematics and Technology Fair which would be held from March 29-April 1 in the Mining Town of Linden under the theme "Enhancing Traditional Technologies to Sustain Modern Societies through STEM."