Barbados reaped most of the awards on final night
By Michael DaSilva
Local amateur boxers failed miserably to lift championship honours when the curtains came down on the Caribbean Development `Back to the Future' Boxing Tournament at the Cliff Anderson Sports Hall on Sunday night.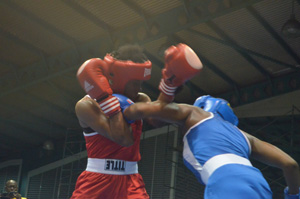 Fielding eight boxers in different divisions in the Elite category on Sunday night, the locals could only muster four victories, while Trinidad and Tobago captured three titles and Jamaica two.
However, it was the Barbadian team that were crowned overall champions as they dominated the women's category and had finalists in most of the other categories, some of which their pugilists dominated.
Trinidad and Tobago's Aaron Hassett was voted best boxer of the tournament. He defeated Jamaica's Nico Yeyo in the final of the men's Elite Welterweight division.
Yeyo had won his two previous bouts and was almost sure to have been named Best Boxer but he was denied this opportunity by Hassett.
In results from Sunday night's finals, in the Novices category, Guyana's Stephan Andrews scored a Technical Knock-Out (TKO) win over Trinidad and Tobago's Mike Inniss at one minute 58 seconds (I;58) of the first round In the Bantamweight final, Nankurar Singh (Guyana) secured a unanimous points decision win over Jamal Skeeple of Antigua and Barbuda in the Lightweight division, Klaus Danile (Guyana) also won by the same route against Trinidad and Tobago's Kyleron Ruiz in their Light Welterweight contest.
Keyon King (Guyana) forced the referee to stop his Welterweight contest against Antigua and Barbuda's Lance Robinson in the second round, Charles Cox (Barbados) came out a unanimous points decision winner over Guyana's Dwayne July and Colin Martin (Guyana) was too strong for Senthil Kumar (Antigua and Barbuda) and the referee stopped the fight at 1:54 of round three.
In the elite category, Tefon Green opened Guyana's account on a winning note with a split decision win against Trinidad and Tobago's Anthony Joseph in their Flyweight contest; Kesny Joseph of French Guiana defeated Guyana's Clairmont Gibson by a unanimous decision in their Bantamweight bout; Ricardo Carter of Jamaica defeated Guyana's Joel Williamson by a split decision in their Lightweight contest; Jean Paul Cooper of Trinidad and Tobago scored a points decision win against Guyana's Jason Phillips in the Light Welterweight final; Johnathan Hanson (Jamaica) got a split-decision victory over Guyana's Dennis Thomas in their Middleweight contest; Desmond Amsterdam (Guyana beat St. Lucia's Marvin Anthony on points in the light heavyweight final; Jason Barker (Guyana) secured a walk over victory over Brendon Dennis of Trinidad and Tobago in the Heavyweight final and Nigfel Paul (Trinidad and Tobago scored a first round TKO win against Guyana's Eon Fraser in the Super Heavyweight final.