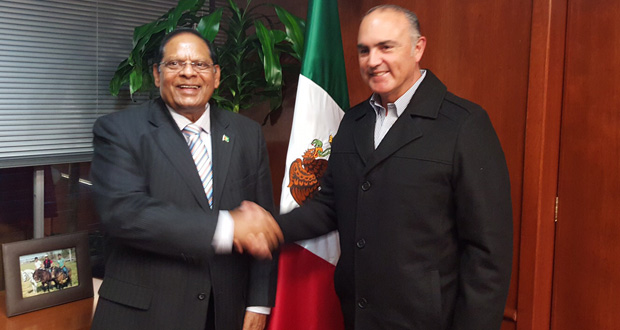 Amid concerns by farmers over the loss of the Venezuelan rice market, the Guyana Government on Tuesday made some headway in securing commitments by the Mexican government to buy some of this country's rice.
Prime Minister Moses Nagamootoo who is attending the Open Governance Global Summit in Mexico City met with Mexico's Agriculture Minister Jose Calzada during which the commitment was made, a statement from the Prime Minister's Office has said. Calzada advised PM Nagamootoo after representation was made that Mexico is keen on buying Guyana's rice.
During the meeting late Tuesday tonight, Minister Caldaza assured that steps will be fast tracked to open market for Guyana's rice in Mexico. Mexico imports some one million tons of rice annually. Nagamootoo was accompanied by Governance Minister Raphael Trotman. Since their arrival in Mexico Prime Minister Nagamootoo and Minister Trotman have been on a round the clock schedule of meetings with Mexican government officials. Prime Minister, Nagamootoo is expected to hold talks with President of Mexico, Enrique Peña Nieto.
Only on Sunday President David Granger assured Berbice rice farmers that their problems have not gone unnoticed and that his government has already started seeking viable solutions where reducing operational costs and creating new market opportunities are concerned. President Granger even raised the issue of finding new markets with colleague Heads of Government at both the regional and international levels, and has promised to discuss their plight with Agriculture Minister, Noel Holder.
The Government of Guyana, through the Ministry of Agriculture, continues to search for international markets for Guyana's rice, in the wake of the closure of the Venezuelan market. Agriculture Minister Noel Holder also recently advised that Guyana currently sells rice to 50 countries around the world, and too much of an issue is now being made out of the collapse of the Venezuelan market.
"As a matter of fact, currently, the Portugal market is as big as the Venezuelan market, about 30 percent or so, I think too much of a big thing is being made out of the lapse in the Venezuelan market," the Minister commented. Currently, the Government is pursuing the Panama market, as "I have even had discussions with the Minister, during the Mexico meeting, so we are pursuing that; we are looking at new markets, it is an ongoing situation, we are even discussing with the Bahamas, they have an interest as well, and Haiti, we are looking at it as well."
Minister Holder had also stated at a press conference he held to address the issue in early October that Guyana was successful in securing an increased market arrangement with Panama, for which shipment has begun. The shipment has been increased from 4000 to 7,200 tonnes. The Guyana Rice Development Board (GRDB) continues to work with the Ministry of Foreign Affairs in securing additional international markets for Guyana's rice.