"INSTEAD of the APNU+AFC telling the people what they will do for them, they are telling you what they will be doing for themselves!"
People's Progressive Party (PPP/C) Member of Parliament (MP) Dr. Vindhya Persaud emphasised this point at a recent PPP/C political meeting as she educated residents of Hugh Ghanie Park in Cummings Lodge, East Coast Demerara, on the surreptitious happenings in the coalesced Opposition.
Dr. Persaud admonished the large and attentive audience with the following words: "Time and time again we were oppressed, but each one of you has a voice, and you must exercise that voice at this year's election."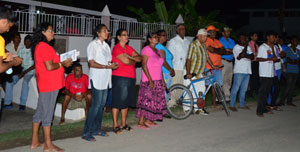 A PPP/C victory, she noted, will happen only if everyone in the various audiences go out and vote PPP/C.
She thanked Cummings Lodge for its continued support of the PPP/C over the years; "and I hope you are ready to work with us and stand with us at a critical time in our history", she added.
Explaining the procedures of voting and voting right, she placed much emphasis on addressing youths in the community who would be voting for the very first time.
"We want you to come out and vote, and do it right!" she said, as she urged the residents to make sure they know where their polling stations are located.
Dr. Persaud echoed the words of her colleagues when expressing her concerns for educating the youths about the history of the people of Guyana, and the struggles they faced prior to 1992.
"We must know of the struggles and problems we had in the past, so that we don't repeat the same mistake in the future.
"Times have changed, we have moved, and today we all enjoy the benefits of hard work and struggle. We have an improved education system, better health care, better roads and water supply among other (things)", she said.
Speaking on the empowerment of women, Dr. Persaud noted that the Government has always placed emphasis on empowering women.
"We have one-third of the PPP/C Parliamentary seats given to the women of our country; and in this year's elections, we have chosen a woman to represent us at the prime ministerial position. That woman is Mrs. Elisabeth Harper!" she proudly declared.
She took time to emphasise on the things that had been included in the previous manifesto and those in the current manifesto as those things relate to women and their betterment.
Dr. Persaud concluded her speech by urging the residents to go out and vote. "We need you to come out and vote on May 11! Exercise your right and return the PPP/C to Government with a majority win!" she urged the audience.
Attorney General and Legal Affairs Minister, Mr. Anil Nandlall, in his speech, declared: "This is one of the most important elections of our history! This election is about the future we want for the younger generation to live under."
The Attorney General also highlighted that A Partnership for National Unity (APNU) has changed face on numerous occasions; and now, he said, they have roped in another — the Alliance For Change (AFC) — for this love affair they are trying to forge.
"You are the persons who will decide what you want on May 11; and if you want to continue with positive change, then you know what your choice should be!" he stressed.
People's Progressive Party/Civic representative Rikki Ramrai, who was also a featured speaker at that meeting, began the night's proceedings by encouraging his audience with these words: "Each and every one of you (is asked to) reflect on where our country was, where it is today, and where we want our country to be in the future." He noted that, over the years, "we have had massive development across our country; but we also need to reflect on what is the best vehicle that will take us from today to the future.
"You are all aware," he declared, "of where we were prior to 1992, and you have seen what this Government — this PPP/C Government — has done since then! You have seen the track record of the PPP/C, and this is the only party that can move us into the future. Come May 11, ensure that you put the X next to the cup and return the PPP/C to government with a majority!" Ramraj stressed.
(Rebecca Ganesh)