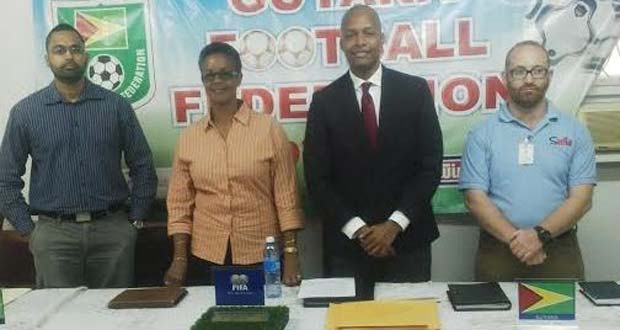 … to address pending request for year-end football tournaments ASAP
THE Guyana Football Federation (GFF) Normalisation Committee held its first press conference yesterday at the Federation's Georgetown Head Office and according to the group their aim is to work collectively for the benefit and development of the game. Clinton Urling, the former Chairman of the Georgetown Chamber of Commerce and Industry, vice-president of the Guyana Olympic Association (GOA) Dr Karen Pilgrim, former squash player and executive Tariq Williams, Stewart May and Rabin Chandarpal were named by FIFA and CONCACAF as the Normalisation Committee responsible for football in Guyana.
The Fédération Internationale de Football Association (FIFA) Head of Member Associations, Premo Cavaro, and CONCACAF's Director of Legal Affairs, Marco Leal, announced on Tuesday, October 21 that a Normalisation Committee will run Guyana's football until September 2015 which saw the Christopher Matthias-led Executive disbanded and will have no place in football.
Atop the long list of priorities for the five-member committee, apart from managing the day-to-day activities of the country's football will be to adopt the new constitution of the GFF; to amend the current one and to organise elections according the new constitution.
According to the Committee who met the local press for the first time since being installed earlier this week, the members are at present in the process of "picking up where the 'old GFF' left off".
It was mentioned that atop the list of agenda, apart from their mandatory constitutional reform, is the realisation of Guyana's first FIFA Goal Project and as such, the committee will be meeting with Minister of Sport Dr Frank Anthony in the coming week.
The Ministry of Sport had made available several acres of land aback the recently built synthetic track facility at Leonora on the 'West Side' but negotiations fell through with the Government of Guyana and the Christopher Matthias-led administration.
Meanwhile, the Committee is in the process of reviewing a number of applications from private promoters and affiliates to host their 'year-end' football tournaments.
The applicants include the Kashif and Shanghai Organisation and the Georgetown Football Association (GFA); two entities who have run their tournament simultaneously for the past two years.
According to FIFA and CONCACAF, the Normalisation Committee has the same power and duty like the executive committee.
The committee was nominated by FIFA and the chairman of the Normalisation Committee will have the same power like the president of the GFF where it was said he will be the one responding to FIFA as president.
Meanwhile, CONCACAF's Director of Legal Affairs, Marco Leal, had told reporters that the Normalisation Committee is not elected by the Congress (of the GFF) but appointed by FIFA and as such, cannot be removed internally.