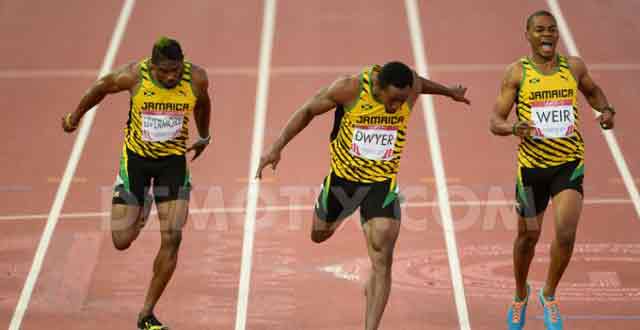 GLASGOW, Scotland, (CMC) – Olympic bronze medallist Warren Weir led a Jamaican sweep of the men's 200 metres semi-finals, as the Caribbean powerhouses hunt for glory continued at the Commonwealth Games here yetserday.The 24-year-old Weir clocked 20.48 seconds to win the semi-final at Hampden Park, and qualify for the final scheduled to run off at 9:10 pm (4:10 pm Eastern Caribbean time).
He will be joined in the final by countrymen Jason Livermore who clocked 20.47 seconds to win the first semi-final, and Rasheed Dwyer who won the third semi-final in 20.42 seconds.
There were several disappointments for the Caribbean however. Antiguan Daniel Bailey finished third in the first semi-final in a time of 20.49 seconds and missed out on qualification, along with Guyanese Winston George (20.88) who was fifth, Grenadian Joel Redhead (20.99) who finished sixth and Bahamian Teray Smith who was seventh in 21.13 seconds.
Trinidadian Rondell Sorrillo also failed to advance when he finished third in 20.57 in the second semi-final, with Bahamian Michael Mathieu missing out with a fourth place finish in 20.58.
St Kitts and Nevis' Antoine Adams trailed in sixth in the third semi-final with Trinidadian Kyle Greaux behind him.
On the women's side, Schillone Calvert won semi-final two with a time of 22.97 seconds to book her place in yesterday's final along with Jamaican Samantha Henry-Robinson who was second in the third semi-final in 23.43 seconds.
There was no such success for Jamaican Anneisha McLaughlin (22.79), Trinidadian Reyare Thomas (23.35), Kineke Alexander of St Vincent and the Grenadines (23.58), Ashley Kelly of the British Virgin Islands (24 seconds) and Barbadian Jade Bailey (24.04).