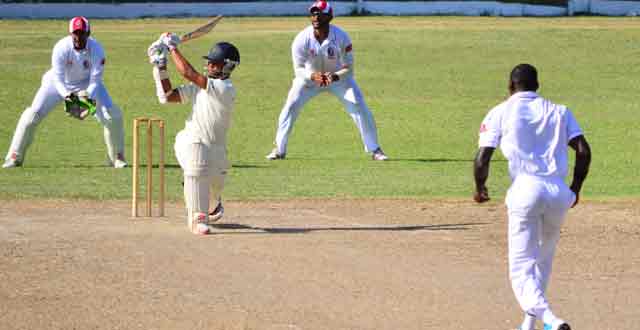 … T&T follow-on 194 runs behind
BOUYED by an unbeaten ton from West Indies Under-19 opener Tagenarine Chanderpaul, hosts Guyana were in a commanding position to force an outright win at the end of the penultimate day of their final round clash against Trinidad and Tobago in this year's Regional Under-19 three-day tournament at the Georgetown Cricket Club ground.
Resuming on their overnight total of 228 for 5, with Chanderpaul on 79, Guyana declared their innings close at lunch with the score reading 310 for 9, of which Chanderpaul contributed an unbeaten 132, before they bowled out the Twin Island Republic youths for 117 for a healthy 193-run lead.
A slight drizzle prevented the Guyanese from making any inroads in Trinidad's second innings, forcing play to be called off before a ball was bowled at 17:05hrs yesterday afternoon, after Guyana had enforced the follow-on.
Earlier in the day, Chanderpaul saw the quick demise of Kemo Paul (14) and Kemol Savory (0) which left Guyana on 232 for 7, before he was joined by Damion Waldron, with whom he added 48 valuable runs for the eighth wicket, posting his century in the process.
Chanderpaul, whose father, the dependable West Indies middle order batsman Shivnarine Chanderpaul was at the venue, faced 339 balls while batting for 433 minutes, reaching his ton with a magnificent drive off Jessie Bootan for his 11th four – back past the bowler with authority.
After getting there, he opened his shoulders to hit Akeel Seetal over mid-wicket for six, but was later given a life by Brandon Jaggernauth, who grassed a catch while stationed at deep mid-wicket, when Chanderpaul looked to hit Justin Joseph over that area.
Chanderpaul lost Waldron (13) and Steven Sankar (0) in quick succession, but Keon Morris (5), who was playing his second game for Guyana at this level, displayed a level head to partner Chanderpaul and push Guyana to 310 for 9 before they declared their innings closed on the stroke of lunch.
Overall, Chanderpaul batted for 480 minutes faced 373 balls and struck 12 fours and one six, while Samuel Roopnarine (3 for 60), Seetal (2 for 44) and Joseph (2 for 73) did the damage with the ball for T&T, who at tea were 51 for 4 in reply.
They lost Amir Jangoo (8), Brian Christmas (6), skipper Jeremy Solozano 23 (4×4) and Camilio Carimbocas (12), but Jaggernauth who was yet to score and Jameel Manniram (1) were looking to repair the damage.
They pushed the score to 82 after the break, before T&T slipped to 86 for 7, losing the wickets of Manniram who struck three fours in his 23, Jaggernauth (9) and Joseph (1), at which stage, Anderson Phillip threw all caution to the wind.
He took a liking to Shiraz Ramcharran, hitting him for two fours in one over, followed by a six and four in his next in his whirlwind 23 before he was lbw to a googly from Sankar that kept low, at 112 for 8, and five runs later, the innings was ended with Seetal unbeaten on 1.
Waldron, Sankar and Ramcharran all took two wickets each for 9, 25 and 39 runs respectively for Guyana, even as Balchand Baldeo, Keon Morris-who started the slide and Paul, chipped in with a wicket each.
(By Calvin Roberts)