GLOWING tributes to him flowed at an 'Evening of Reflection' in honour of the life of the late Governor of the Bank of Guyana, Mr. Lawrence Theodore Williams, CCH.
The occasion was hosted Wednesday at the Umana Yana, Kingston, Georgetown, for the 59-year-old who served Guyana's premier banking institution for the last 35 years.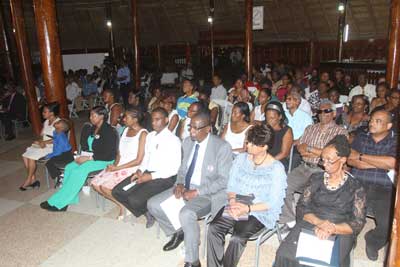 He died at the Dr. Balwant Singh Hospital in Georgetown on May 7 after losing the battle against a terminal illness.
Having joined the Central Bank in 1979, he rose through the ranks, serving in various capacities and before being appointed, in 1994, as the Banking Manager, third in the hierarchy.
In November 2004, Williams was appointed to act as Governor before being officially sworn in as substantive Governor on June 8, 2005, by then President Bharrat Jagdeo.
Among those gathered to join the sorrowing widow, Mrs. Valerie Williams and other bereaved family members at Wednesday's forum were Prime Minister, Samuel Hinds; Minister of Finance, Dr. Ashni Singh; former Minister of Finance, Sasenarine Kowlessar; Deputy Governor of the Bank of Guyana, Dr. Gobin Ganga; Chief Statistician, Lennox Benjamin and others.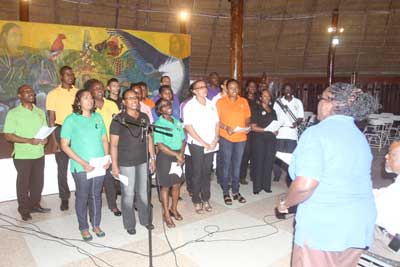 Meanwhile, chairing the programme was Mr. Maurice Munroe, Chief Accountant of the Bank of Guyana.
In his introductory remarks, he briefly traced Mr. Williams' work with the bank, noting the profound impact his life had on the institution.
Consummate professional
Munroe described the late Governor as one who distinguished himself as a consummate professional and whose affable disposition greatly touched the lives of those with whom he worked, or indeed, came into contact. He was credited for having served his country faithfully and with distinction.
Minister Singh, on behalf of the Ministry of Finance, extended profound condolences to Mrs. Williams and her bereaved family, as well as to the Bank of Guyana Family.
He acknowledged a plethora of letters and messages of condolences received from regional and international institutions around the hemisphere with whom Williams had come into contact during the course of his working life.
They all concurred and echoed the same sentiments that, Guyana has lost a distinguished, able and outstanding servant.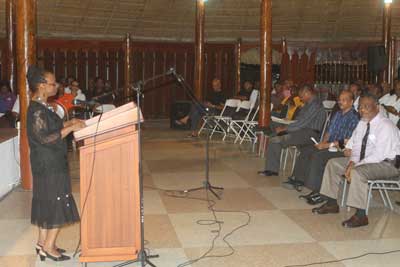 "I do not know of anyone who has ever had anything negative to say about Lawrence Williams. I have never seen him unnerved by any situation. I have never seen Lawrence Williams ruffled, upset, angry, offended or annoyed and it puzzles me how he could accomplish this state of being," Dr. Singh declared.
He recalled that the late Governor distinguished himself as an individual and professional who served his country faithfully and dedicatedly.
"He was a man of courage, strength and immense capability," he concluded, adding that his (Williams') strength was illustrated in his final fight for life. He fought that fight for many years, never once displaying a hint of dejection nor desperation."
Dr. Singh thanked Mrs. Williams for having given Guyana Lawrence Williams, a man dedicated to his word, adding that he, the minister, felt deeply honoured and privileged to have worked with him. In concluding, Dr. Singh emphasized: "Even if his stay on this earthly abode might have been abbreviated… his 59 years were well spent (on this earthly abode) and finally discharged. We will forever mourn his loss, sing and celebrate his work."
Work bonds
Entreating Chief Statistician, Lennox Benjamin as testament to the strong and dedicated work bonds they shared, he recalled the many late days and nights of work they endured, confronting tough issues.
Deputy Governor Ganga acknowledged and lauded the 35 years of dedicated service Mr. Williams rendered to the Central Bank, alluding to it as quite a milestone.
He was intrigued that the late Governor was such a good servant who never harboured a thought of migrating.
"He was a friend to many and carried himself with humility. He was, indeed, a gentlemen, humorous and was, indeed, a stalwart who played his game as a team player," Ganga said.
He added that, with 35 years' service at the Central Bank, Lawrence Williams must have carried with him, a mountain of institutional memories, crucial for organisational success.
"Indeed he was a very good team player and achieved the required success expected by the organisation. He has left an indelible mark and would be dearly missed," Ganga asserted.
Prime Minister Hinds who recalled brief and pleasant encounters with the Governor, on matters of state, said he was shocked on learning of Mr. Williams' passing and tendered condolences to widowed, Mrs. Williams, their two children and one grandchild.
Acknowledging the yeoman contribution Mr. Williams had made to banking in Guyana, Mr. Hinds praised his dedication and commitment to Guyana, by sticking it out even through the difficult period of the 70's and 80's and not migrating.
He was impressed that Lawrence Williams, the young and budding banker, despite the glamour of material things offered elsewhere, put that behind him and made a conscious decision to remain in the land of his birth and provide the critical services needed for national development.
"The life of the Governor gives us this assurance that there are still people committed to staying on," the Prime Minister concluded.
Shared memories
Paying tribute to the late Governor, too, was his sister, Ms. Waveney Williams, a midwife, who shared memories of their childhood past, their early adult life growing up in Cane Grove, East Coast Demerara and the impact of their grandparents' contribution to their upbringing.
She remembered their grandmother ruled with an iron fist and attested to just how well it paid off, recalling that failure to spare the rod, at the expense of spoiling the child, yielded much resulting in the upbringing of a band of well-rounded siblings and good quality and academically sound.
"It became known at an early stage that to whom much is given, much is expected, hence they took studies seriously.
Ms. Williams was able to demonstrate the validity and impact of the contribution of the extended family and village elders, to harnessing and bringing up children who were not necessarily their own. In those days, as the saying went, it takes a village to raise a child.
Against such a background, Lawrence had to succeed and he was very resourceful, she noted, asserting that her brother was humble, steadfast in his love for country and would exchange it for nothing.
"He had to be humble in a place where it took a village to bring up a child," she said.
The Evening of Reflection was spiced with spirited choral singing by the Bank of Guyana's 'Voices in Harmony' under the baton of Ms. Maud Adonis. The group rendered inspirational and uplifting songs and select poems were dedicated to the bereaved widow and family members of the deceased.
(By Shirley Thomas)