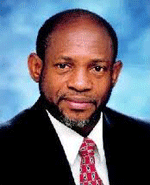 APPROXIMATELY half-a-century ago, the mindset of most girls was to look forward to finishing high school, meeting the perfect guy, and raising the perfect family in the perfect home.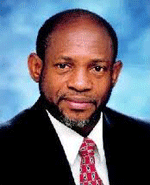 But Eileen Cox must have been ahead of her time, like all true revolutionaries, because she was different even then. Her fiancé broke off their engagement when she announced that she was planning to pursue a career.
Even when her eventual marriage lasted for only three years, she wasted little time wallowing in self pity or heartbreak, but instead felt liberated to pursue her real interests, which included empowerment and equality of women, and protection of the consumer.
She blazed a trail through uncharted territory and defied all odds in her drive to advocate for the consumer and improve the standing of all women.
Now 95 years old, the founding member of the Guyana Public Service Union (GPSU), which has been standing since March 1964, has built a reputation for being compassionate, resilient, and persevering. "I grew up seeing my father helping people, and I've always known that was what I wanted to do, helping people," she confided.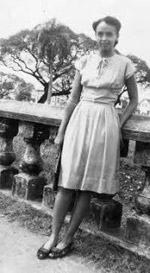 Her path led her to join the Guyana Public Service Trade Union, and later the Guyana Public Service Cooperative Credit Union, but she eventually became dissatisfied with the operation of those entities because she observed that the Trade Union Movement was not only male-dominated, but that the men appeared not to be interested in the equality of women.
"I decided to relinquish my position at the GPSU because men were not prepared to accept the viability of women in the work environment, and were therefore not open to the notion of equality of the sexes," she said.
This led to her joining forces with the then First Lady, Mrs Viola Burnham, to form the Guyana Consumers Association. As president of the inaugural body, she drafted the Constitution of the Guyana Consumers Association between 1970 and 1971, with the support of others, including then First Lady Viola Burnham. As President of the Guyana Consumers Association, Cox had the simple mandate to educate and represent the consumer's interest to government and industry. In order to effectively address this mandate, Ms Cox decided to liaise with the International Organization of Consumer Unions in England.
In 1971, Cox took her advocacy one step further when she submitted articles that appeared in the daily Graphic newspapers. She also took the message to the airwaves on a five-minute programme aired on the then Guyana Broadcasting Corporation (GBC). "This programme provided the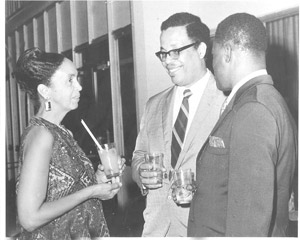 means of educating consumers on wise shopping choices."
The GCA met with the Ministry of Trade and Consumer Protection once per month. The Ministry of Trade and Consumer Protection, now the Consumer Protection Affairs, is now a division within the Ministry of Tourism, Industry and Commerce, from which it receives a subvention.
Another major achievement for the GCA has been the establishment of the Guyana National Bureau of Standards, which saw the GCA lobbying for its existence ten years before it finally came into being, Cox recalls.
Working with the GCA, she helped to encourage women to educate themselves and continue to seek senior positions. However, she has admitted in the past that despite the successes achieved with equality and empowerment of women, too many women get lost in the system once they leave. She believes that there is no suitable system to facilitate upward mobility of women after they leave school. There are not enough women whose voices are being heard.
Cox was concerned about women borrowing money from men who were well off. The problem with that situation was that the lenders demanded unrealistic interest rates, while the average salary was 30 dollars.
"The average salary was in the vicinity of thirty dollars per month, and most women found it difficult culminating social unions in marriage based on the archaic laws at that time," she said. It was a debilitating arrangement that legally required a woman in the public sector to leave her job and relegate herself to the status of a housewife.
A major influence in changing the dynamics of women in the workforce was the convening of a meeting by the then First Lady Viola Burnham, who formed an all-women's group, the Women's Revolutionary Socialist Movement (WRSM), with the aim to empower women. The WRSM dealt specifically with consumer issues and ways in which women could become empowered.
The involvement of Ms Burnham, who wielded much power by dint of her status as First Lady, greatly emboldened women to join the movement.
She firmly believes that, irrespective of gender affiliation, a person reserves the right to upward mobility, provided that person proves to be efficient in the specified capacity.
Background
Her son, Salvador, recalls, "I remember as a growing teenager I was sometimes even jealous of the attention she gave to all her causes; because, of course, as teenagers do, I thought I should have all of her attention."
He said on his blog: 'Land of Many Waters Journal of my trip to Guyana in March 2012: People and Places, Animals and Trees': "Mum was a member of Guyana's first generation of feminists. Born in 1918, she always stood out as "brainy", and as a child, her example was always placed before me as a standard I had to achieve. Mum was head girl at Bishops High School, the country's leading girls' school, and as a pupil there myself, and a rather naughty one, she was always pointed out to me by my teachers as a model, a shining example I should strive to emulate. There was her name carved on the board of former head girls; when I was suspended from school for — ahem — causing a disturbance in class, my headmistress, Miss ramrod-backed Dewar, duly reminded me that I was "letting my mother down". What a disappointment I must be! I was told."
He also pointed out that his mother was the first girl in the country to win the almighty Guiana Scholarship, much to the annoyance of eligible boys in the country. It was a scholarship based on merit, and she was the best. It would have enabled her to study medicine or law in the UK, but she turned it down for reasons unknown.
Despite being in her nineties, Eileen Cox still valiantly attempts to entrench the message in the minds of her critics, and to foster positive action. Last Tuesday, the Guyana Public Service Union finally honoured Ms Eileen Cox for her decades of service.