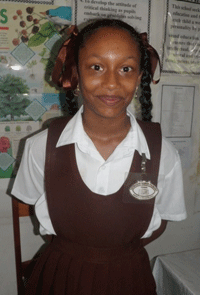 Taymouth Manor student tops Cinderella County
— An excited Kimberley Prasad gives praise to God
ESSEQUIBO top student at the National Grade Six Assessment examination (NGSA), Ms Kimberly Prasad, confesses to being excited at her achievement, and says she is giving praise to God for making her be among the top performers and topping Region Two.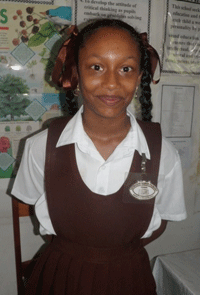 Speaking to the Guyana Chronicle at her school, Taymouth Manor Primary, Kimberly said she knew she would do well, but never dreamt of being the top student of her region and part of the top performers across the country. Asked to describe her feeling, she said, "I can't explain!"
The 12-year-old said her mother, Diana, was with her in their yard at Queenstown Village, playing football on Wednesday afternoon when her grandmother, Shaide Khan, broke the good news to her.
According to Kimberly, her grandmother was very excited, and shouted that she just heard the results announced on the NCN 6 O'clock News and her granddaughter's name was among the top performers.
Kimberly said she and her mother ran upstairs, and it was all excitement, causing her to fall to the ground in shock. She said she could not believe what she had heard.
Asked about her studies in preparation for the NGSA, Kimberly said she went to bed at 20:00hrs and awoke at 01:00hr every morning to begin her studies. She said she would study for one hour then take a five-minute break and resume her studies.
She said her mother supported and encouraged her in her studies.
Kimberly said she wants to attend the Anna Regina Multilateral School (ARMS), even if given a school in the city. Asked why she wanted to attend ARMS, Kimberly said the school has had outstanding results at the Caribbean Examinations Council (CXC) examinations over the years, and she wants to study there.
This top student says she wants to become a doctor, and will study hard to achieve her goal. She said she took extra lessons from Sir Parmanand Jadhoo of Affiance from 15:00 to 17:30 hours each day after school.
Kimberly expressed gratitude to Ms Parbattie Singh, her headteacher; her mother, Diana; Ms Diana Nicole Thompson; extra lessons teacher Mr Jadhoo, and to God, for her success. Her advice to other students who would be writing the NGSA is to study hard; and she called for parents to be very attentive to their children with their books.