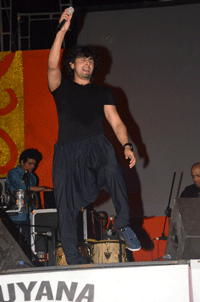 -"I always wanted to come to Guyana"-Sonu
CAN you believe that renowned Bollywood Singer Sonu Nigam has always wanted to come to Guyana? It's true, and he said so at his incredibly entertaining concert at the Guyana National Stadium at Providence last Saturday night.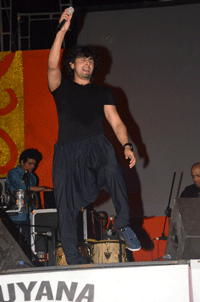 Sonu's fans got their money's worth for sure! The gorgeous singer did not stop short for a moment in entertaining them. He performed non-stop for more than three hours, prompting Guyana's President Donald Ramotar to remark that Sonu is definitely a "strong" man.
Guyanese turned out in their thousands to listen to Sonu sing and he did not disappoint, not even for a bit. He sang to appeal to the taste of almost everyone present and it was obvious that they enjoyed the tunes.
Some of the fans who could not contain themselves rushed to the front of the audience to dance to Sonu's music, to take pictures, and of course to see him close up and personal.
During his performance, Sonu also spoke to his fans, telling them how much he had been looking forward to the day he would sing in Guyana. He spoke about his mom who took ill some time ago and asked that his fans keep her in their prayers.
Sonu said he has been singing since the age of four and has learnt many things from India's legendary singers, some deceased, and some still very much in the business.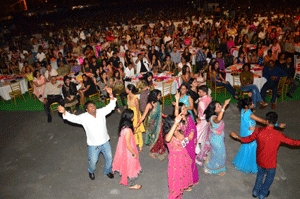 Greeting Sonu at a dinner at the Pegasus Hotel last Friday, President Ramotar welcomed him to Guyana and expressed his hope that Sonu would have a good time in the country. He congratulated the Guyana Hindu Dharmic Sabha for their intention behind holding the show, that is, to use the proceeds towards building a shelter for vulnerable kids.
The President, Prime minister, together with many government functionaries, and prominent members of the business and religious society, were among the thousands of fans at Saturday's show.
Described as the "King of Playback", the "Golden Voice of India" and "Lord of the Chords" he is equally known for his renditions of the popular songs of the legendary Mohammed Rafi as he is for his own Bollywood Hits, his role as television host for the musical talent show Sa Re Ga Ma Pa, judge on X-Factor and his non-filmi albums.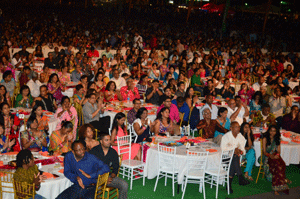 He has sung in approximately 54 different voices and has sung with international artistes such as Britney Spears and Jermaine Jackson. He has won numerous awards for his songs, including those in popular films Kabhi Khushi Kabhi Gham, Kal Ho Na Ho, Kabhi Alvida Naa Kehna, Om Shanti Om, Saathiya and Main Hoon Na.
He has been the voice of many Bollywood stars such as Shah Rukh Khan, Salman Khan, Hrithik Roshan, Amir Khan, Abhishek Bachchan and Govinda.
Shelter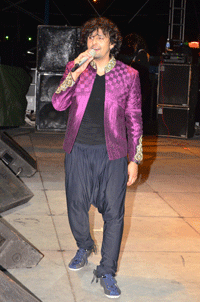 The Dharmic Sabha launched its 'Voices against Child Abuse' programme in April 2010 and has since been working towards the construction of a shelter or 'halfway home' in Berbice to house and protect vulnerable groups.
The land has been donated by the Government of Guyana at Anchorville, Berbice, and the building is expected to house a maximum of 30 children. There will also be provisions there for mothers with babies.
The facility will include kitchen and dining areas, a playroom, laundry room, health clinic, classroom, library and counselling rooms. Furthermore, recreational facilities will be sited on the surrounding land.
Children will be provided with shelter until the situation is resolved and they could safely re-integrate into their family homes, foster care or long-term facility. The shelter will keep children for a maximum duration of six months while trained staff will work with stakeholders to resolve all pertinent issues.
Staff will include an administrator, councillors, nurse, cooks, handyman, cleaners, and tutor, and a board of directors will make decisions and policies. These directors will include representatives of the Sabha, government, and other stakeholders.