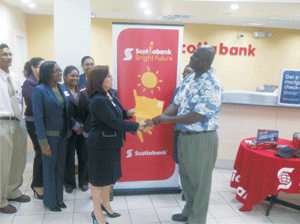 SCOTIABANK yesterday donated more than $2M to charities under the Scotiabank Bright Future Programme during a presentation at the Robb Street, Georgetown, branch banking hall.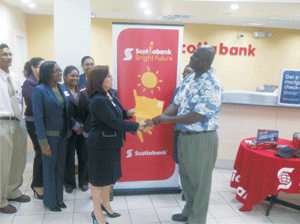 Volunteering has never been more rewarding for Scotiabankers in Guyana. In addition to the satisfaction felt knowing that they made a positive difference in someone's life, employees won over $2M in prizes for their volunteering efforts through Scotiabank's Annual Bright Future Awards, an internal initiative by the bank for employees throughout the Caribbean and Latin America.
For 2011, Guyana secured five of seven awards offered by Scotiabank to promote volunteering among its employees internationally – Outstanding Philanthropic Performance, Building Scotiabank's profile, Most Employee Volunteer Hours, Outstanding Individual Contribution and Bright Future country Award. Guyana also took the runner-up spot for the Best Photo Award, submitted by its New Amsterdam, Berbice branch.
The Outstanding Individual Contribution Award was won by Natalie Noel, Processing Officer, who volunteers with the Lions Club of D'urban Park. Noel also won the Community Leader Award, a new category which was announced several weeks after the Bright Awards.
The charities identified to receive donations from the prize money are the Lions Club of Bartica; the Lions Club of West Demerara; Uncle Eddie's home; Habitat for Humanity; the Ptolemy Reid Rehabilitation Centre; Bless the Children Home; the Lions Club of D'urban Park; Joshua House, Ave R Kids Children Home and Comforting Hearts.
The branches outside of Georgetown will be presenting their cheques to their respective charities soon.
The Scotiabank Global Bright Future Programme is the bank's philanthropic initiative aimed at channelling funds and employee volunteer hours towards initiatives benefiting children in the areas of education, sports, health and social well-being.
In 2011, some 38 bright Future initiatives were undertaken in Guyana; where over 900 employees' volunteer hours were contributed for the benefit of over 10,000 children.
Scotiabank is committed to supporting the communities in which we live and work through our global philanthropic programme, Scotiabank Bright Future.