President Ali tells UN, says more funds needed to achieve SDGs
COUNTRIES will only be able to end poverty and hunger, and achieve the Sustainable Development Goals (SDGs) if appropriate financing is made available, President, Dr. Irfaan Ali, has said.
In a bold address at the High-Level Political Forum on Sustainable Development and 78th Session of the United Nations (UN) General Assembly in New York, on Monday, the Guyanese Head of State told world leaders that achieving global goals will only be successful if commitments are met with action.
"We will not have a world where everyone everywhere enjoys their full human rights, peace and security, and is free from poverty and hunger unless the right to development is realised and respected," President Ali said.
He added: "Guyana believes that significant progress can only be made in achieving the SDGs if national efforts are matched by commitments being fulfilled, and if an international environment is created that fosters progress for all countries."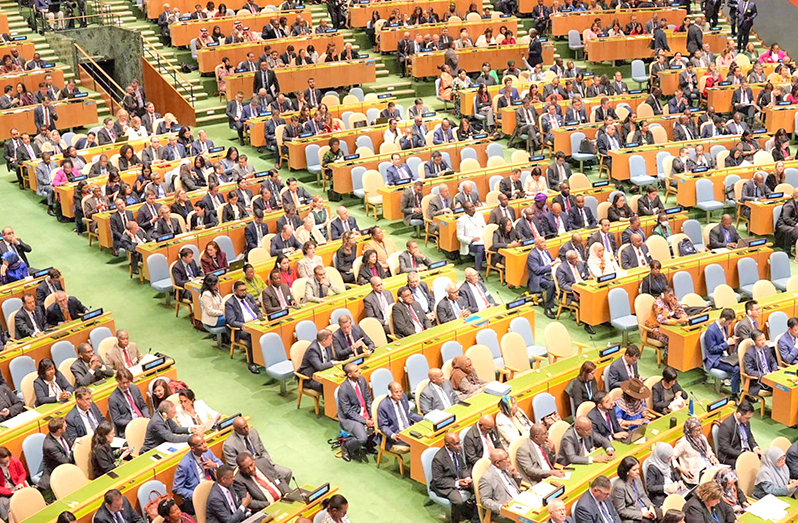 Dr. Ali believes critical action must be taken on the Bridgetown Initiative, liquidity support, debt sustainability, development funding and governance reforms of international financial institutions.
"Our international financial architecture is out of sync with the needs of developing countries and must be reformed. Developing countries are faced with higher food inflation -five per cent higher than the rest of the world in most cases," the Guyanese Head of State said.
A recent Inter-American Development Bank (IDB) report cited by the President, revealed that Latin America and the Caribbean needs a whopping $2.2 trillion to bridge the financing gap for four critical SDGs.
Those goals include access to water and sanitation, energy, building sustainable infrastructure that promotes innovation and sustainable industrialisation, and making cities sustainable. Access to these necessities is crucial for the well-being of communities, and the report highlighted the importance of prioritising SDGs.
Dr. Ali said that Guyana, despite the existing challenges, has been making strategic investments to meet the global targets outlined by the UN.
"Guyana's expansion of our economy has allowed us to focus heavily on the SDGs. For example, investment per capita in health has increased by 62 per cent, in education by 64 per cent, and security by 153 per cent over a three-year period," Dr. Ali said.|
The Guyanese Head of State is currently in New York and will be attending a number of forums to further discussion on the SDG's, financing and climate change.
He is accompanied by Minister of Foreign Affairs and International Cooperation, Hugh Todd; Foreign Secretary, Robert Persaud; Permanent Secretary at Foreign Affairs Ministry, Elizabeth Harper; Guyana's Permanent Representative to the United Nations, Carolyn Rodrigues-Birkett, and Director of Projects at the Office of the President, Marcia Nadir-Sharma.