A young man's vision for his village
HAVING an idea of where you would like to see things go for yourself is something that most people have. But having a vision for where you would like to see your community progress takes a unique interest and passion for one's village and the people that live there. The village of Rockstone is located almost 17 miles from the mining town of Linden and stretches to connect to the right bank of the Essequibo River. The village in known and widely revered for fishing. Rockstone is in fact the only place in Guyana where 'Fish Festivals' and 'Fish Extravaganzas' are hosted. Rockstone also neighbours the beautiful and majestic Gluck Island.
With waters teaming with arapaima and Gluck Island being home to more than two hundred species of birds, including our country's national bird, Rockstone has the potential to be one of the nation's biggest tourist destinations. But there are still many steps to be taken and many things that must be put in place for Rockstone to reach its potential as a village that will draw people from every corner. But the move forward takes leadership, cooperation and a vision. And people like Deino Williams are important to ensuring their communities and villages reach new heights.
Deino Williams is an ambitious 24-year-old who was born and raised in the village of Rockstone. Today, he sits on the village's council and is being seen by his community as the village's next potential Toshao. But before he became councillor at just 19, won a scholarship and began advocating for the issues his people face, he says growing up in Rockstone was a one-of-a-kind experience and one that shapes his beliefs.
Deino grew up as the middle child in a family of 7 siblings. He stated that his upbrining was different because he was given opportunities and he sought to grasp as many of them as he could. "To me, growing up in Rockstone was a unique experience. They granted me a scholarship through the government. I was actually the first scholarship [recipient] for the village…." He went on to express that many people of his village still look up to him and many urge him to run for the position of Toshao. Deino said that he was considering running in the village's next election which will be in January of next year. But for now, he has a whole host of ideas and thoughts he would like to implement in the village of Rockstone.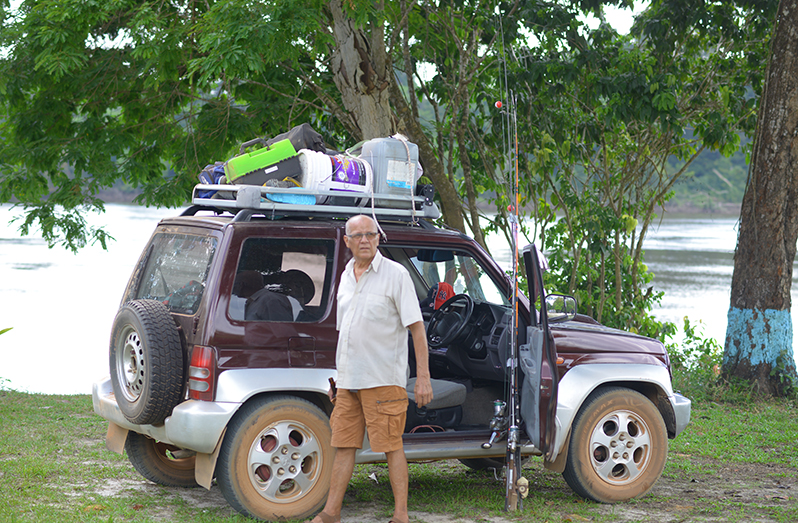 As much as Rockstone is known for tourism, Deino believes that far more could be done to showcase Rockstone and all of its wonders to the rest of the world. To Deino, Rockstone has the potential to become the tourism hotspot he envisions it to be. "Rockstone has great potential for tourism. Through the government and the LCDS [Low Carbon Development Strategy] we have decided to establish Eco lodges. The fish extravaganza or fish festival has been the major attraction in the year," he said. Deino went on to express, "To me, we should take all the money and invest it in tourism. Because I see this as something that could bring back revenue into the village, create jobs, especially for the young women."
One of the aspects that Deino considers as having untapped potential is the Gluck Island. Deino believes that if the village really wants to go the route of eco-tourism, then a place like Gluck Island is the place to start. "We are planning on creating tours that will attract foreign tourists plus domestic tourists. Any person who shows interest, we have birdwatching in Gluck Island. It is actually one of the largest islands in the Essequibo River and it is rich in biodiversity. It has more than two hundred different species of birds. So, if we want to start with eco-tourism, why not start there?" he said.
The village is taking a number of big steps into the field of tourism. The real intention and aim of activities like the village's various festivals is to bring money to the village and its people. As Deino explained, "Last year, every villager that took part in the fish extravaganza made a profit by selling and so forth. The village actually made one million and something dollars in profit. And that is the true intention of the fish extravaganza."
His ideas and visionary approach to the development of his village are perhaps among the many reasons why his peers look up to him. Among other things he would like to see done are in the area of the empowerment of women and girls. Deino says that, if given the funds and resources, he would build a home for victims of domestic violence.
Deino went on to state that, "How can you try to solve domestic violence and you are still in the same home. That is part of my vision: a woman experiencing domestic violence in her home, we can say, we'll take you away from this home." Deino urges all of his fellow young people to take opportunities for self-improvement. As he stated, "I would tell young people, take these opportunities seriously, don't refuse knowledge. And it is something that needs dedication, determination and discipline."