While having development on track
ROCKSTONE, the village's name, is quite literally derived from the fact that the community sits in a granite boulder. On the right bank of the Essequibo River, the village of Rockstone is a beautiful and enchanting little village. Rockstone's landscape is primarily hilly, with buildings like the school built to suit the terrain. Rockstone is known for a few things: its fish festivals, its people and its culture.
Rance Allicock came to settle in Rockstone in the year 1997 and hasn't left since. He was among the first people to call Rockstone home. The sight of Rockstone some 20 years ago was quite different from what is seen today. Rance hails from Annai in Region 9. His mother comes from Region 8 and his father from Linden. Rance grew up with the potential and willingness to pursue careers in health and agriculture but was unable to because of financial restraints. Rance was led to Rockstone where he started and maintained a life to become a pillar of his community.
Rance came to the village of Rockstone through a series of events that led him into the village. The spritely 76-year-old remembers the old Rockstone that he came to call home. Like many of its neighbours at the time, Rockstone was once involved in bauxite mining.
Rance, who also served as the village's Toshao for a time described how Rockstone, despite the many activities happening in it, has always been a simple village with humble people. He stated that "Rockstone got it's original name from the huge granite rock that is down on the landing. So the older people decided to call it Rockstone."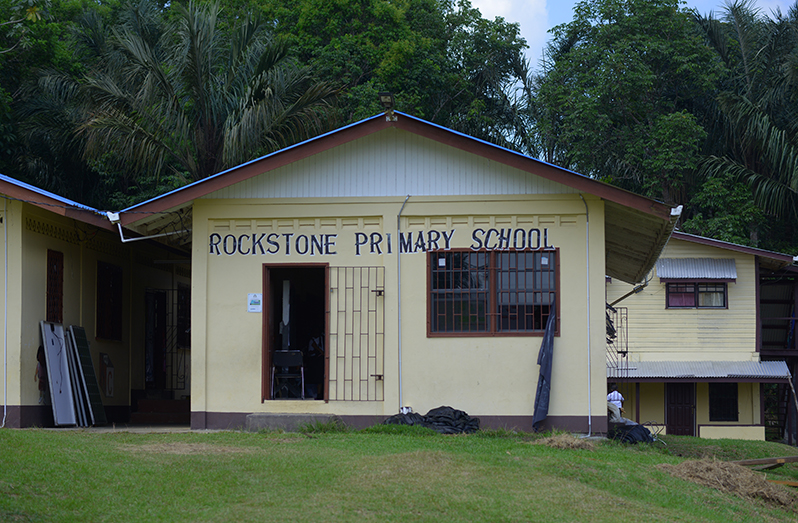 According to Rance, the village of Rockstone was like an undiscovered wilderness. "It looked like the first time going into the forest. It was like doing exploration. You just looking at spots, you're looking at valleys, you're looking at mountains. Thinking about where is the best place to put up our camp."
This mindset and cooperative approach played an integral role in the development of the village of Rockstone. The community's school was built by members of the village. As Rance stated, "This school was the first school and it was a shingle building. And we built it ourselves and we had to 'dig-a-way' the mud. We had about two hundred people. Today it's about three hundred."
Rockstone, however, from Rance's point of view, has developed drastically over the years from a small village of people who were just looking for a place to call home to a community that works together for the development of Rockstone. Rockstone today is a village onto itself, with its own schools, health centre and guest houses. The village, however, is still facing one if the biggest issues: unemployment.
One of the issues facing the village of Rockstone is unemployment. Being primarily a logging and farming community, many villagers are finding other alternatives to make a living. Going into the village of Rockstone on a Monday would see most of its villagers out in places like Linden, working. Most of them for the entire week before returning home on the weekends.
As Rance explained, the lack of employment opportunities has become what he calls a disease. "Right now, people are doing farming. Not extensive farming but self-sustainable farming as well as fishing and hunting and the village has a logging concession." In retaliation to this, many more villagers seem to be returning to farming, as well as partaking in the village's various tourism activities.
Rance explained that Rockstone is not alone in the race for workers and employment. But it seems there are simply enough workers, as he stated, "The village need workers right now here. It is a mass development infrastructure taking part right now. We have the CWOs, CSOs and the village council. Workers are short everywhere."
Being as historically rich as it is, it is no surprise that Rockstone and its people hold tradition and culture in such high regard. Rance expressed that the older generation like himself, are trying to teach young people about their culture. As Rance stated, "What we are trying to do is enlighten them. You don't come off your system your culture, your tradition."
Rance expressed that he wishes to see the people remain as humble and as traditional as always while never leaving their cultural roots. In indigenous culture, the crafts and creative pieces of work are today a part of what is being preserved as tradition. As Rance explained, "Crafts, straw work, the spinning of cotton to make your own hammock. I want to see that put back into place."
Rockstone will be celebrating the culture the community has worked so hard to protect and preserve September 24. Rance expressed that the village has already started preparations, cutting palms and setting aside anything that will be needed. Rance hopes that the village of Rockstone will keep its stronghold in tradition while continuing to move forward and flourish.