WITH the aim of preserving the rich Guyanese culture, US-based Guyanese twin sisters, Ashvini and Ush Persaud founded the non-profit organisation, Green Fashion, Art & Design Museum (Green Fad Museum) to achieve this goal while also putting other Caribbean cultures on the map.

In an interview with the Guyana Chronicle, Ashvini said that the pop-up museum intends to work with emerging Guyanese artists to provide them with a platform to showcase their talents, both on the regional and international level.
She said that the inspiration for this initiative did not only emerge from the love of art and fashion, but also because there are meaningful stories behind Caribbean culture.
The founder further added that the formation of Green Fad Museum resulted from the need for a safe space where individuals could discuss and share artworks that reflect sustainability, diversity, and inclusivity.
When asked why she decided to exhibit Guyanese culture to America, Ashvini said: "We have a large diaspora…and we want to give back to our own upbringing, our teachers, our country, our homeland."
She affirmed that moving to another country did not mean she and her twin sister had to abandon their homeland.
Ashvini then drew attention to the reality that some art and culture have been lost over the generations to those who immigrated to western civilisation and lacked a strong sense of cultural identity.
"It's important to me to help with that preservation because I felt I had access to resources growing up in Guyana, and I had the privilege of being exposed to some of the greatest artistes in Guyana," she said.
During a recent visit to her homeland, Guyana, she said that she was blown away by an array of unique arts and crafts from Georgetown and the hinterland communities.
Immediately, Ashvini said such talents should not go unrecognised and the museum is interested in displaying the unique crafts to the world.
GREEN FAD IN FULL SWING
Despite the COVID-19 pandemic's widespread havoc, the museum overcame the challenges and even added fashion tribute masks to their Fashion Art Project in memory of everyone who was negatively affected and even lost their lives.
The International Museum of the Saree (IM of the Saree), one of the first and still most well-liked projects that the pop-up museum presented, was chosen because it brought together various groups, according to Ashvini, noting that the South Asian culture is quite diverse.
Additionally, there is the '2 Organic Apples' exhibit which made waves in the museum for its meaningful message.
Created by T. Kowalski, the fine art painting illustrates a young Polish patient's battle with cancer, his love for apples, and his parting message for the world. The exhibit became a cancer awareness fashion art homage.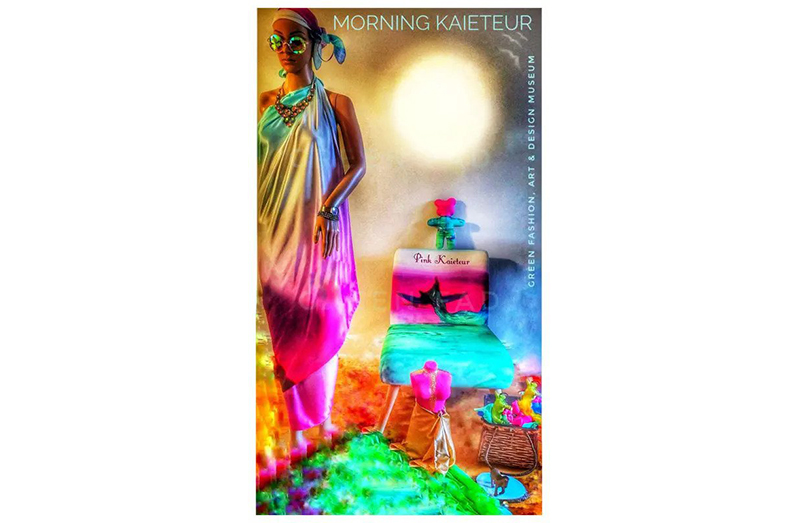 There are two green apples in the artwork. The man's final desire was for people to pay attention to what is put in their food, to be accountable for what they eat, and to accept responsibility for what they consume.
Apart from the Guyanese community, she said that Green Fad is also receiving tremendous support from the international community for its mission to showcase the uniqueness of Caribbean culture.
Among the many Guyanese designers, the museum has teamed up with, she reflected on the partnership with Michele Cole, and according to Ashvini, it was one of the organisation's most loved collaborations to date. The twins collaborated with Guyanese designer Cole to produce a spectacular and culturally varied evening as well as a wedding gown line for their Oil in Guyana Project in honour of Guyana's 50th Republic Anniversary.
The museum displays historical eco-friendly arts and crafts for people of all ages, including Guyanese-made hand or custom figurines, toys, tourism-ready clothing, eco-friendly bags, and paintings turned into paint to print fashion with drop shipping for a contemporary yet abstract historical perspective of Guyana.