People and places in Cinderella City
EDWARD Fiedtkou is one of the first settlers of Cinderella City, Amelia's Ward, Linden who is still alive and is faring quite well despite challenges with his eyesight at age 89 years old.
When the Pepperpot Magazine visited his home, he was reclining comfortably in his rocking chair on the verandah with his caregiver, his daughter, Shawn Fiedtkou, who resides in the Cayman Islands but is here to care for her elderly dad.
The father of 13 reported that he has seven girls and six boys. One of the boys passed away and most of his other children reside overseas.
He is the grandfather of 21 and great-grandfather of 14.
Fiedtkou told the Pepperpot Magazine that he left his home village of Friendship in the 1960s and relocated to Cinderella City.
He gained employment with the then Demerara Bauxite Company (DEMBA). There, he held the position of leading hand (belt line) at the huge wheeler machine and was in charge of a shift as a supervisor.
Fiedtkou reported that he served 34 years with the company before retiring as a foreman.
He disclosed that when he came to live in Cinderella City, the place was a forest and he had to clear a part of the land to build a modest house and there were only four other residents then.
Fiedtkou stated that he began living in the village in 1965 and was one of the men who cut the trees to bake the wood to make charcoal to sell.
The elder resident reported that he also did some farming to earn and, as time went by, more people began occupying the lands until there was none left.
"This village has come a long way from then to now and we have a lot to be thankful for. It is a developing community, although we don't have everything yet and I like it here. The quietness and the peace appeal to me the most,' he said.
Fiedtkou explained that the few people living before him in the village came together, developed the place, and assisted each other to build houses. They have been living together since then with no issues.
He revealed that some of the street lights are not working and should be fixed since the place is unusually dark at night.
The resident added that Cinderella City is a safe place to live and he would not trade it for another village.
Fiedtkou is basking in his old age and enjoying every aspect of it, including being pampered with nothing to do and all the time to do it.
Oral De Young, the man with the unusual house in Cinderella City
At first glance the sight of a particular house in Cinderella City is quite intriguing. The house's unusual design is quite nice and 'out of the box' and appeals to one.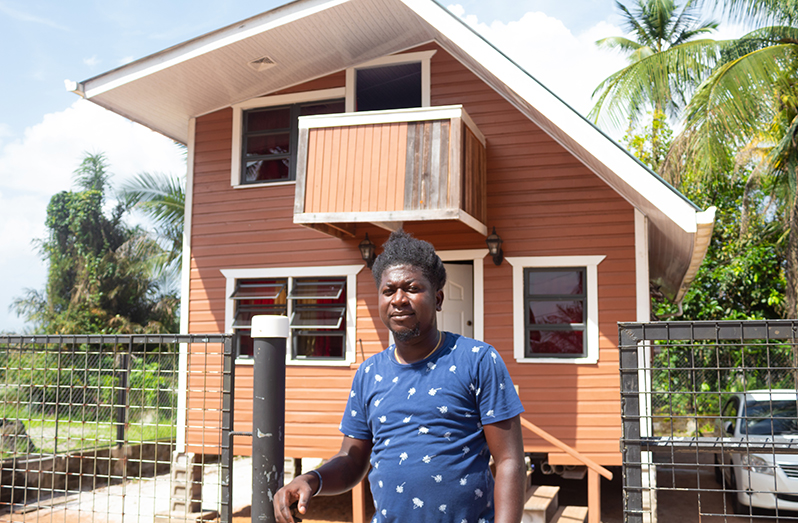 It is a wooden cottage-style house with a little verandah on the top flat and a verandah on the lower flat, making it a unique edifice that isn't too small or large in size.
The house in question is owned by Oral De Young, a welder by trade and he is the father of one who along with his brother-in-law, constructed the house from scratch.
De Young told the Pepperpot Magazine that three years ago he saw a photograph on Facebook of a house, and he instantly fell in love with it and told himself that is the house he wants.
The young man related that he had no house plan and went along with just a photo and it came out well and he also made his fence which complements the house.
The house is located on McPherson Lane, Cinderella City.
"Often people passing through would stop and ask if they can take photos of the house and I would agree and they would give compliments and so. It is nothing strange to have a nice little house that people like," he said.