Region Four semi-final matches on today at NTC
WEATHER permitted the One Guyana President's Cup football tournament to resume on Thursday night at the Ministry of Education ground on Carifesta Avenue with action in the Region Four inter-ward leg.
The spectators were treated to the pace and skill of 19-year-old Golden Jaguars' forward Omari Glasgow, who featured for Beterverwagting/Buxton in the opening match against Mahaica/Mahaicony, which was decided by kicks from the penalty mark.
BV/Buxton were the clear favourites in the match and wasted little time to establish an advantage after Eon Dooker put his side ahead in the seventh minute. Glasgow then doubled the lead in the 29th minute.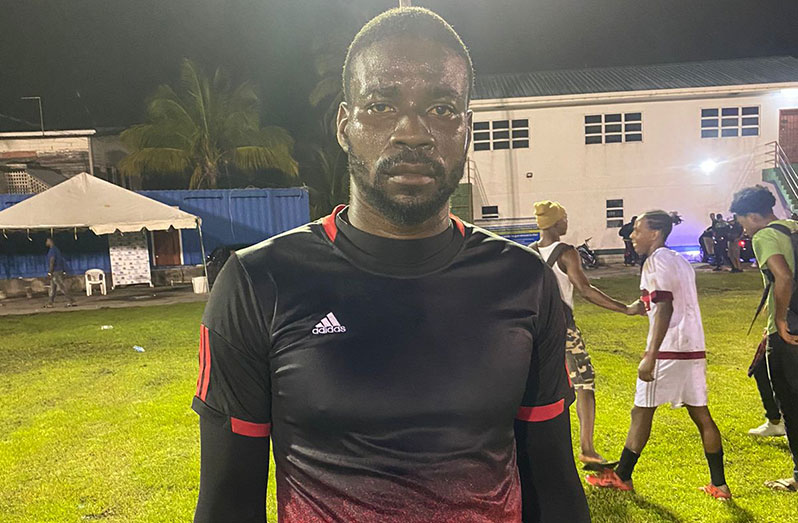 Mahaica/Mahaicony were determined to show that they were out to compete, and pulled a goal back just before the break in the 44th minute through Nicholas Portsmouth. Following the resumption of play, BV/Buxton maintained their one-goal advantage up until three minutes before stoppage time when Keven Sherwood got the equaliser.
BV/Buxton were way more comfortable from the penalty mark and triumphed 5-3 from kicks after full time ended 2-2.
In the feature match on Thursday, Grove/Diamond needled West Ruimveldt thanks to a twelfth-minute effort from Lloyd Matthews.
Meanwhile, on Friday, South Ruimveldt/Tucville got past Werk-en-Rust 2-1 while Plaisance/Liliendaal thumped Timehri/St Cuthbert's 4-0.
And with that, the semifinals of Region Four have now been set with both matches kicking off today at the National Training Centre (NTC)c, Providence. The opening game which is scheduled for the first whistle at 12:30hrs will see Friday's winners BV/Buxton match skills with Grove/Diamond.
The feature semifinal clash will pit South Ruimveldt/Tucville against Plaisance/Liliendaal at 15:00hrs.