By Calvin Chapman
THE 2022 Inter-Guiana Games (IGG) officially returned last evening following the opening ceremony at the Providence National Stadium which was attended by Prime Minister Retd. Brigadier Mark Phillips, Minister of Sport; Charles Ramson Jnr, Director of Sport; Steve Ninvalle and Chairman of the National Sports Commission; Kashief Muhammad.
The March Past by the three participating nations in French Guiana, Suriname and Guyana was facilitated by the Guyana Police Force band M.S., which provided melodious tunes for the litter of spectators that included the organising committee members, officials and athletes.
This year's IGG is one for the history books already since it is the first instance that there will be nine (9) disciplines contested at a single games.
Competition gets underway today with Athletics, Cycling, Tennis, Volleyball and Football. The event will come to a close on Sunday evening at the Cliff Anderson Sports Hall (CASH).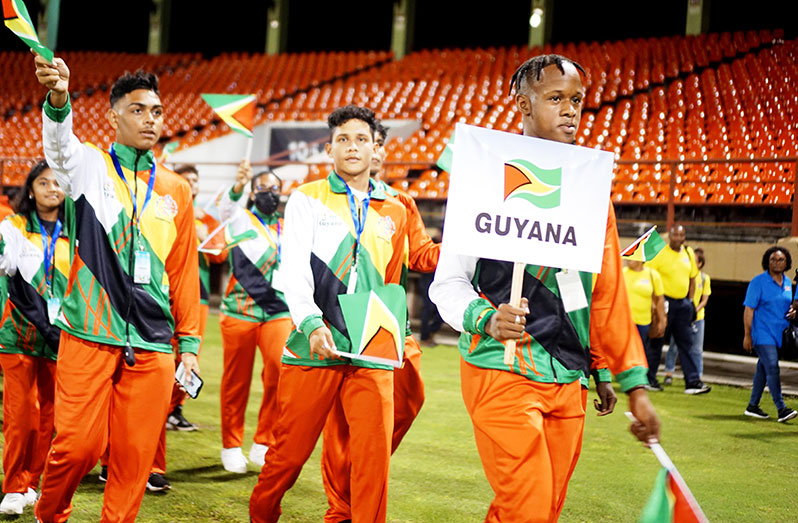 Prime Minister Mark Phillips posited that, "Our countries are blessed with highly talented people… Sports brings people together and paves the way for cooperation. It teaches team building, mutual respect and other character building traits… Sport is a language that is understood across cultures. Sport is a vehicle which provides hope that the most daunting of challenges can be overcome. It inspires."
"Regardless of who wins, at the end of the day, the Guianas, all of us will be winners. I declare open, the Inter Guiana Games, 2022."
Minister of Culture, Youth & Sport, Ramson, in his speech encouraged the athletes to stay focused and learn from both their wins and losses. He mentioned that a lot of work went into organising the event and he urged the participants to show gratitude by enjoying the event and being the best that they can be.
Director of Sport Steve Ninvalle during his address mentioned that, "The magnitude of IGG 2022 is just a microcosm of what is to come for sport in Guyana. And, the next Inter-Guiana Games will be bigger and better. In the works is a border games, that will see Nickerie competing with Corentyne."