FOLLOWING approximately four inches of rainfall and the anticipated high-intensity rainfall in the coming days, Minister of Agriculture Zulfikar Mustapha and a team of National Drainage and Irrigation Authority (NDIA) officials, on Tuesday inspected drainage pumps and sluices in the city.
According to the Department of Public Information (DPI), the NDIA has assigned three engineers to monitor all pumps and sluices on a 24-hour basis. They will be responsible for ensuring that they are opened on time to minimise any possibility of flooding in Georgetown and surrounding areas.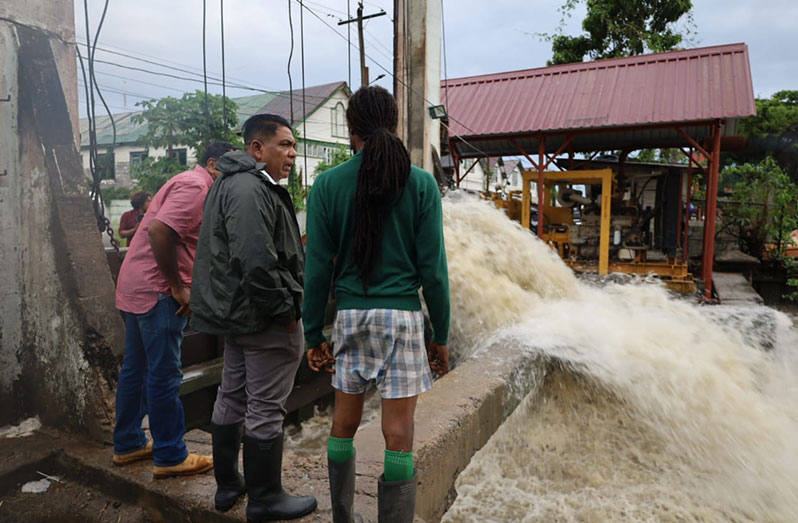 Further, the Princes Street pump was rendered inoperable after it came into contact with a piece of wood.
"The NDIA is in the process of extracting the pump to effect repairs and will work around the clock to ensure that it becomes operable in the shortest possible time.
This, however, could have a severe impact on the effectiveness with which water is drained from the land, particularly in light of anticipated high-intensity rainfall in the coming days," the DPI said.
As a result of the situation at Princes Street, the NDIA is urging citizens to desist from wantonly dumping garbage and other refuse in waterways and in the vicinity of pumps, as such actions could have catastrophic consequences for communities.
The DPI noted that a few days ago, President, Dr Irfaan Ali, on his Facebook page posted images of large amounts of debris, including metals, vehicle tyres, plastic barrels and other trash which were removed from the Kitty Pump Station during the recent national clean-up exercise.
Citizens are being urged to exercise precaution during this rainy period.