HARD work pays off and it is also a part of who Ralph McGarrell is. McGarrell is a local of Long Creek, Soesdyke/Linden Highway and a charcoal producer. His wife supports him with his business ventures, including a mini resort right within the community.
McGarrell, a father of two, told the Pepperpot Magazine that charcoal production is his main source of income and he provides employment for men in the village almost every day of the week.
The 40-year-old, a well-known businessman, would buy end-products of logs directly from the village sawmills and supervise his workers in packing a pit after which it is baked for a few days.
After the wood is fully baked, it turns to charcoal and after the cooling process of two days, the charcoal is packed into salt bags, sold to wholesale buyers, and retailed.
"I like to work, so living here is 'right up my alley' so to speak, but it is not easy because, around here, there are no real jobs except for charcoal production, which requires labour and isn't a one-man show. Long Creek is a beautiful place and we make do here somehow," he said.
McGarrell explained that when he first moved to Long Creek Village in 1991, it was a swamp where he is currently residing and, over time, he invested money and labour to develop the place as it is today.
"People used to tell me I'm mad you can't live in a swamp, and look today how I made this place with the mini resort and all," he said.
He added that he put a lot into making the place liveable and with his wife's support they will continue developing their living space and lives.
McGarrell stated that he did some excavating and bought a lot of sand to fill the place since part of the land was filled with water.
He disclosed that next year he plans to host the heritage day at his resort and will spruce up the place for the event where all are invited to celebrate.
Mc Garrell will also construct a stage, beautify the creek front, and make it even more appealing for visitors.
He added that the villagers will assist and cooperation will enable them to pull off the event.
Like most residents, they believe that with potable water, electricity and roads, their village will ultimately transform into a developing community.
McGarrell lives on a hill, and just below is his shop, which is managed by his wife, Odessa, who also operates the mini resort. The resort has seven benabs, a changing room, washroom facilities and a creek.
On weekends and holidays, visitors would show up to have a family picnic and Odessa would accommodate them and prepare chicken, fish with chips and barbeque.
Odessa is a native of Region One (Barima-Waini) and has been living in Long Creek for some years following her marriage in 2012.
She told the Pepperpot Magazine that she adjusted well because, at Long Creek, it is a similar environment as that in her home village Wowena. The only thing different she said was that she sees a lot of vehicles passing on the highway which overlooks her home.
Odessa reported that there is an entrance fee for vehicles and it is a safe environment, and they would even pay to ensure the surrounding is clean and tidy.
During the week, Odessa said she would make homemade bake and salt fish, boil and fried channa, among other things, to sell along with cold beverages and other packaged goodies.
Andy De Abreu, the farmer
Andy De Abreu is a farmer in Long Creek Village and he is a family man who is part of a family-owned business with his siblings, producing charcoal.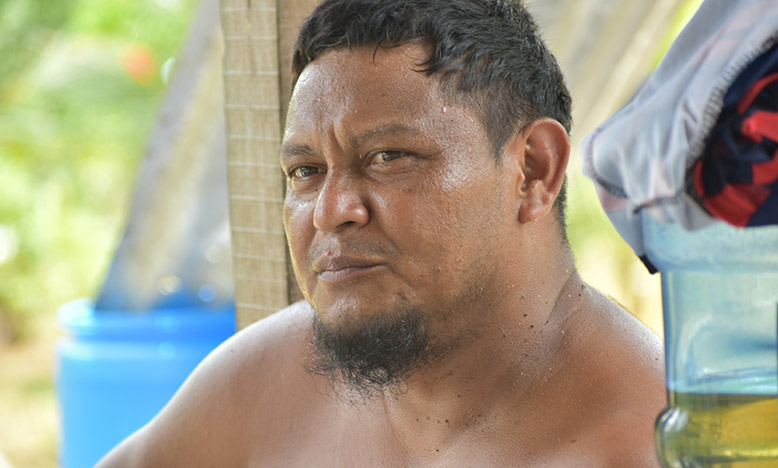 He has a cultivation of cash crops in his yard and he would sell his produce right in the village and he is residing on lands which were once his grandfather's and it had been handed down through generations.
The father of four told the Pepperpot Magazine that that day they had just returned home to check on their ill son and prepare lunch, before heading back out for work.
De Abreu added that his wife, Eve De Abreu is very supportive and she would go with him for work, baking charcoal and even on the farm.
In his spare time, he would fish and hunt and find things to do around the house and yard.
Nazir Mohammed, the sawmiller
Although Nazir Mohammed isn't a resident of long Creek Village, he would spend a lot of time in the community at his sawmill which is located in the village.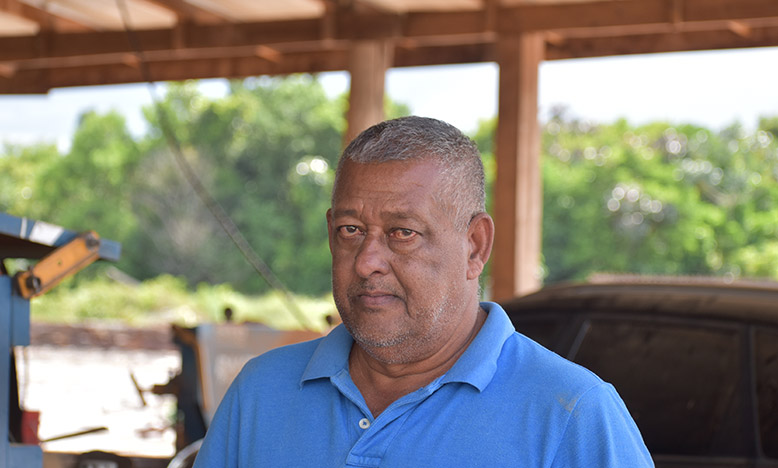 He is one of two sawmillers in the village who would give back to the people and for this year's heritage celebrations in the community, he donated the wood which will be used for the construction of the stage.
"As a person from Essequibo, we grew up giving; being benevolent is part of my family trait and it is no different today and if somebody come to me for help I would assist in any way possible whether it is materials or money," he said.
Mohammed is a down-to-earth kind of man who has good relations with the community and even provides employment for some of the locals. He has in his employ 27 workers.
The businessman resides in Diamond, East Bank Demerara and would commute daily to his sawmill and his wife is of Amerindian descent and she has a better relationship with the locals of Long Creek.
Cleveland James, the charcoal worker
Cleveland James is a resident of Long Creek Village and a charcoal worker who oversees an operation owned by a city businessman, his brother-in-law.
The father of one told the Pepperpot Magazine that he is a native of St. Cuthbert's Mission and for the heritage day in the village, he will be providing the tocuma worms.
The 38-year-old stated that he has two other colleagues and they have wholesale and retail buyers and their small business is named Highway Black Diamond.