GWENDOLYN Atkinson has a small family business which entails waking up quite early and preparing bulk food in the form of cook-up rice with chicken for her budding dog food customers in the city.
She has been a resident of Swan Village, Soesdyke/Linden Highway, for the past seven years, and she would prepare cooked food for dogs at her home daily except for holidays.
Atkinson has customers in the city, and she sells the dog food in wholesale quantities. She has in her employ her daughter, son-in-law, and daughter-in-law, and collectively they cook and package the bulk dog food.
Once finished bagging, Atkinson will commute to the city to distribute the cooked dog food to her many customers at various locations and once completed, she would drive back to Swan to prepare for the next day.
Atkinson is on a tight schedule and she would have to reach the city from Swan for midday to get the dog food to vendors to sell daily because it is all about timing.
The 43-year-old told the Pepperpot Magazine that she would begin cooking the rice in a large pot at 06:00hrs and the meat would be prepared separately and cut into pieces, and placed in the food before bagging.
Every day three bags of pet rice and 100 pounds of chicken parts from the Bounty Chicken Farm in the village are bought for dog food preparation.
Atkinson would prepare dog food in seven packs each of 50 bags per customer, and at times, they would incur a loss when the food doesn't sell that day.
"We used to put in beef, but it is $800 per pound, and we cannot afford to, so it is just the chicken that is used to prepare the food for now," she said.
Atkinson reported that they retail dog food at three locations in the city and have dozens of vendors buying the dog food to re-sell.
She is originally from Bartica and used to reside in Georgetown for some time before they settled in Swan Village seven years ago and have since managed to construct their own house.
The mother of seven related that today she is the grandmother of seven, and life is fair in Swan, and she is grateful that she is self-employed and manages her own small business, a family one.
"Working with yourself is not easy but rewarding despite the challenges you have to make it work unless you want to work for other people, so I involve my family, and so far, we are coping," she said.
Atkinson told the Pepperpot Magazine that her daughter and a son would sell the dog food in the city, and both of their cars would be utilised to transport the cooked dog food to all the locations in Georgetown every day.
"We have our own customers and the people in the village also support our small business and for that we are very thankful," she said.
The chain saw operator/logger
Meanwhile, Aubrey Adrian is also a resident of Swan Village, Soesdyke/Linden Highway. He is a chainsaw operator and logger who would walk for miles to the back dam area to fell trees to make furniture and other things.
That day, when the Pepperpot Magazine visited the village, Adrian was about to head out to fell some trees. The wood would be used to build a fence around his house.
The 49-year-old stated that felling trees with a chainsaw is very dangerous, and if you do not know what you are doing, that very tree can fall on you, resulting in death or serious injuries.
The father of eight related that he has been doing the job for the past 35 years, and over time he acquired some experience which he uses to escape being hurt while at the job.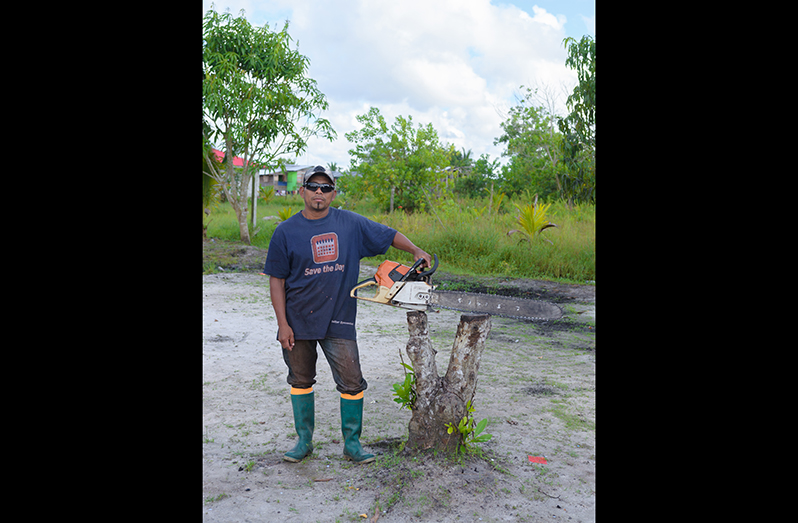 Adrian added that he began working as a chainsaw operator/logger at age 14 and mastered the skill of repairing the chainsaw whenever it malfunctions or develops a problem.
He is multi-talented and can do many things, including making furniture from scratch and made-to-order pieces.
Adrian usually uses the hard wood to erect a fence and other species of wood to make furniture and other things.
The trees once cut into pieces, would be transported via the Community Development Council (CDC) tractor and trailer to his house from the backlands.
"I would drive for three miles then walk another two miles to get to the back dam area where I can safely fell trees," he said.