A TOTAL of 16 men appeared, on Wednesday, at the Cove and John Magistrate's Court where they answered to respective charges that they engaged in riotous behaviour connected to the violent protest along the East Coast of Demerara (ECD) corridor on Tuesday, a police statement on the matter said.
Police identified the men as Haslington, ECD residents Rawl Griffith, George Teixy, Daniel Thomas, Legendi Pompey, Kevon Nicholas and Kester Paul; Golden Grove residents Jawonza Fowler, Seon Austin and Quice Lawrence; Victoria residents Michael Moore, Winston James and Andrew Sumner; Belfield Housing Scheme resident, Rondolph Murphy; Melanie resident Shentel Caesar; Ann's Grove resident Rondel Clarke; and Bachelor's Adventure resident Shamar Payne.
According to police, Andrew Sumner was the only accused who pleaded guilty. Sumner was fined $20,000. The other accused pleaded not guilty and were all released on $15,000 bail each. They will return to court in October.
At the source of the protest was a misleading report that a police officer under investigation for the fatal shooting of Quindon Bacchus in Haslington New Scheme, ECD earlier this month was released. That matter is still being investigated by the Police Complaints Authority (PCA).
Since Tuesday's protest, the PCA issued a statement saying it will soon complete its report on the circumstances surrounding the death of the 23-year-old man.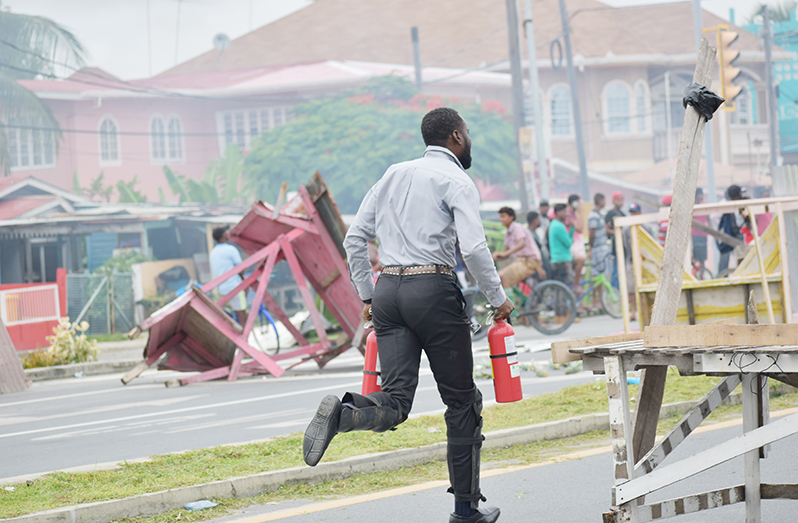 "The investigation by the Police Complaints Authority in collaboration with the Office of Professional Responsibility has been progressing rapidly. A thorough investigation is necessary in order to ensure a free, fair, and transparent finding.
"As such, all protocols must be observed and the outcome of that process would be communicated in due course," Chairman of the PCA, Justice (Ret'd) William Ramlall had said in a statement on Tuesday.
President, Dr Irfaan Ali visited the village of Buxton, ECD on Tuesday where he assured residents, including the deceased man's family, that the matter was being adequately investigated.
"My dear Guyanese brothers and sisters, as your President, I am asking you do not be misled; do not be used.
"I understand the hurt but let the system work. Let us await the outcome of the system and let us not get emotional and act out of turn based on reports that are not grounded in the truth and facts," President Ali had said during his community engagements on Tuesday.
Contrary to what was falsely reported by a media house, which has since retracted its article and apologised, the attorney representing the officer in question, Kezia Williams, on June 23, filed a Writ of Habeas Corpus against the Guyana Police Force, the Attorney General, and the Director of Public Prosecutions, in the High Court.
However, on Monday, High Court Judge, Sandil Kissoon, did not grant the application after the Attorney General's Chambers objected and informed the court that the matter was still under investigation and De Nobrega was under "open arrest" while still in police custody.