– Bobb, Ramsey fighting today
By Rawle Toney in Monterrey, Mexico
(Compliments of: Team Mohamed's, GYMMA & National Sports Commission)
THE Guyana Mixed Martial Arts Federation (GYMMAF) has protested Trevlon Clarke's third-round TKO defeat to Uruguay's Cristian Sanchez yesterday at the International Mixed Martial Arts Federation's (IMMAF) Pan American Championships, in Monterrey, Mexico.
According to the GYMMAF, Clarke was poked in the eyes during the second round, which is dubbed an illegal move.
After the fight, Clarke was escorted to a nearby hospital in Monterrey for treatment to the left eye.
Dr Sawan Jagnarain, who is heading the Guyanese delegation, reported that Clarke was treated and up the time of this report, was listed as 'clinically stable'.
Fighting at the Gimnasio Nuevo Leo Independence in the Capital of Nuevo León, Clarke, after exciting in the first two rounds, had his fight stopped in the final round against Sanchez in the Men's Welterweight Division.
Clarke at time of his TKO defeat, was leading on judges' scorecards.
The Guyanese had earlier hurt his opponent using his boxing skills, but the Uruguayan was showing flashes of his superiority on the ground.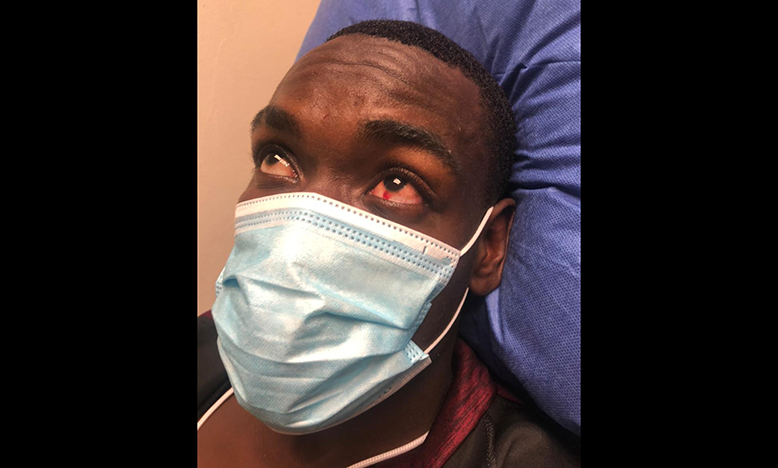 Both Clarke and Sanchez were cut over their eyes at the end of the second round and had to be treated by ringside cut men.
In the final stanza, Clarke had started to fade midway through the bout while Sanchez kept his relentless attack.
Sanchez would eventually get Clarke on the ground and earned a 'ground and pound' TKO win over the Guyanese.
Meanwhile, Guyana will have at least two bronze medals at the Championship, since the other fighters, Shenese Bobb and Carl Ramsey will fight in the semi-finals of their respective category.
Bobb, first female to represent Guyana at an IMMAF competition, will compete in the women's lightweight division.
The women's lightweight division only has three entries, but though certain of ending the competition with a medal, Bobb remains optimistic of finishing on top of the podium.
Ramsey is making his MMA debut and will match skills in the men's Heavyweight category.
This marks Guyana's second time competing at an IMMAF event, with the country first featuring in the World Championships in Abu Dhabi earlier this year.
Mohamed's Enterprise and KFC Guyana are the two major sponsors for the team, while exclusive coverage in Chronicle Sports and on NCN Sports was made possible by Team Mohamed's, the National Sports Commission and the GYMMAF.