-GCB boss hails President Ali for unwavering support of cricket
By Clifton Ross
MINISTERS of Sport and Education respectively, Charles Ramson Jr. and Priya Manickchand, on Tuesday, welcomed the launching of the Guyana Cricket Board (GCB)/Republic Bank 'Five for Fun' Schools cricket tournament, both citing the move as monumental and groundbreaking.
The event was held at the Cliff Anderson Sports Hall (CASH) and featured a number of local and overseas cricketers, such as West Indies legend Courtney Walsh who was on hand. Director of Sport Steve Ninvalle, executives of the GCB, media, but importantly, students from a number of schools across the country were also present.
Minister Ramson, who eloquently gave the feature address alongside his fellow Minister, Manickchand, during his time at the podium, pointed out a number of great avenues which will be derived all from this new, ground-shaking launch. Ramson added that it is the hope of the venture that more youths will be involved in cricket.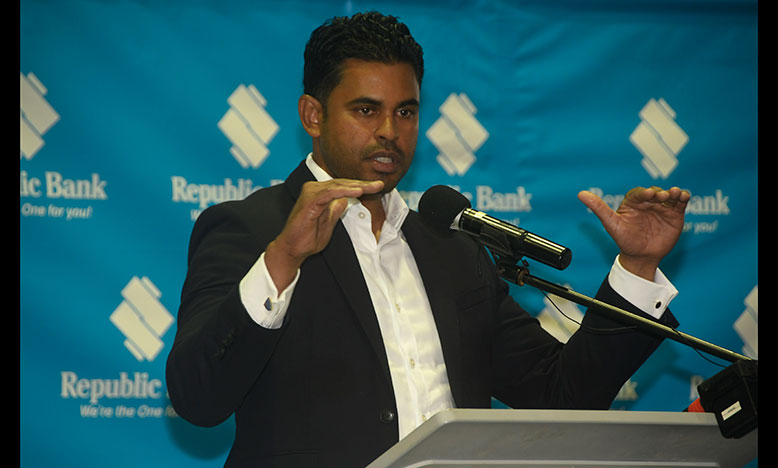 He said the previous initiatives by the government, some of which included the $200M community grounds restoration project, will continue to play big part in development, as the government is expected to up their spending with regards to community development, by pumping an additional $250M this year, going forward.
Traits such as teamwork, respect, discipline and collective cooperative efforts were among some of the areas Minister Ramson believed will be top areas of focus when the project gets underway.
The Sports Minister also pointed out that all current plans to develop sports or in this aspect, cricket, is all courtesy of President Irfaan Ali, who has shown his full support for the growth of the sport while hoping that the country can advance together as we celebrate our rich sports culture.
Also, Minister Ramson added that the CASH will undergo a whopping $130M restoration project soon, something he said will play a key role especially with other international venues earmarked for construction in the near future locally.
Giving more insight into the logistics of incorporating academics with sports, the Education Minister Priya Manickchand said she was extremely happy to see the youths having much emphasis placed on their development, especially through sport. The Minister revealed that coming from a family fond of cricket, it was easier to have a more genuine affection for sports.
Minister Manickchand noted that the current goal is to produce wholesome, healthy students especially coming off the back of COVID-19 and its restrictions. She believes that this program will allow kids to have more affinity for academics, while it allows them to properly hone in on the necessary skills they want to equip the next generation with.
Learning at least one foreign language, knowing how to play at least one musical instrument, are just a few of the plans the Minister said will be incorporated into the overall development of our students.
Meanwhile, GCB boss, Bissondyal Singh during his speech, credited President Ali for his continued, unwavering support of cricket. Singh thanked Republic Bank for their support and financial assistance while highlighting that training for teachers in Physical Education (PE) among other areas is a big part of equipping those with the necessary tools.
Last summer in St. Lucia, the first trial run of the 'Five for Fun' got underway and according to Ms. Karen Tom Yew, Republic Bank's General Manager, it's great to have such a scope to help bring up new talents.
Also, Stephen Grell, the bank's Managing Director, echoed similar sentiments but was more excited about the prospect of Guyana being the next territory to break this all-new ground for sports and academics.
Meanwhile, the programme is set to bowl off from September and will target over 75 schools from across Guyana.