AT 77 years old, Latifan (only name) is spending her days taking care of her grand-daughter, who has been entrusted to her since she was two days old.
The girl is Eliana Zarah Thomas, who is nine years old and is attending school.
Latifan enjoys taking her grand-daughter to and from school, but, apart from that, she is satisfied staying in.
She is among the first settlers of Kaneville Gardens, East Bank Demerara and has been living there since 1995.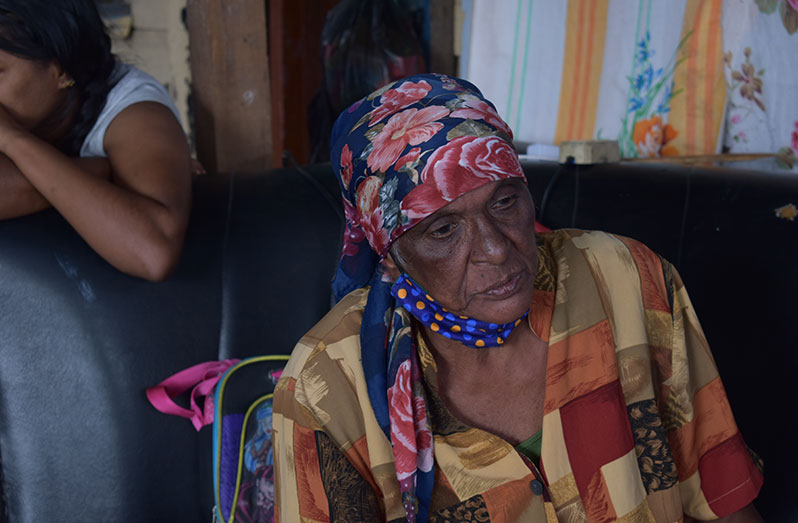 "The music does be too much for me at nights, but I try to cope. Living at the edge of "Wrong Turn" Street isn't the ideal spot because it is a four-corner and all kinds of things take place here," she said.
Barbot Paul, her late husband, was fatally killed during an armed robbery at their home in 2006. He was a shop owner and a contractor at the time.
Being a widow wasn't easy at all, but over the years, she has accepted the fact that he was no longer here in the physical form and life goes on, regardless.
Latifan told the Pepperpot Magazine that living in Kaneville Gardens comes with its own challenges, and one of her main issues was flooding.
However, her cries for help in getting a modest house did not fall on deaf ears. Her Muslim brothers pitched in and contributed to the construction of a flat concrete which she is currently residing in.
This senior citizen has a lot to look forward to, including the celebration of her 78th birth anniversary in July.
She would like to have her family members around, be it in the form of her son, six grandchildren and two great-grandchildren.
"I am a pensioner and I am getting old-age pension and I get by with that and also contribution from my son and the Muslim brothers from the Kaneville Masjid," she said.
Latifan related that Kaneville Gardens was her home and she had no intention of exiting that village despite some issues.
She is originally from Middle Walk, Buxton, East Coast Demerara and relocated to Kaneville Gardens many years ago in search of a better quality of life. The prospect of owning her own home was most tantalising.
Latifan's companions are a grandson, Mustapha Persaud, 25, who is married with one child and her beloved grand-daughter who is obviously the 'apple of her eye'.
Persaud told the Pepperpot Magazine that he was a member of the Kaneville Mosque and as his way of giving back to the community him, along with others, would cook food and feed the less fortunate every week.
Shamane Solomon, the vendor
Meanwhile, in the same village is the roadside stand of Shamane Solomon, a mother of six who is simply trying to take care of her children.
She has a small business selling fresh vegetables and fruits at the corner of 'Wrong Turn' Street, a hotspot for bars and other happenings.
Solomon is squatting on the reserve where she has a small wooden house and she is originally from Sophia, Greater Georgetown.
She told the Pepperpot Magazine that she is a single mother and after working with the Craig NDC for a few years, she decided to start her own small business.
Solomon began buying fresh fruits and greens at Stabroek Market in the city and has to wake up early and leave home at 02:00hrs to make the necessary purchases to sustain her business.
She added that it was a sacrifice, but she has to upkeep it because she is the sole provider for her home.
The entrepreneur stated that the transportation costs via taxi would add up, but she had no other mode of travelling. She would return home with her load by minibus.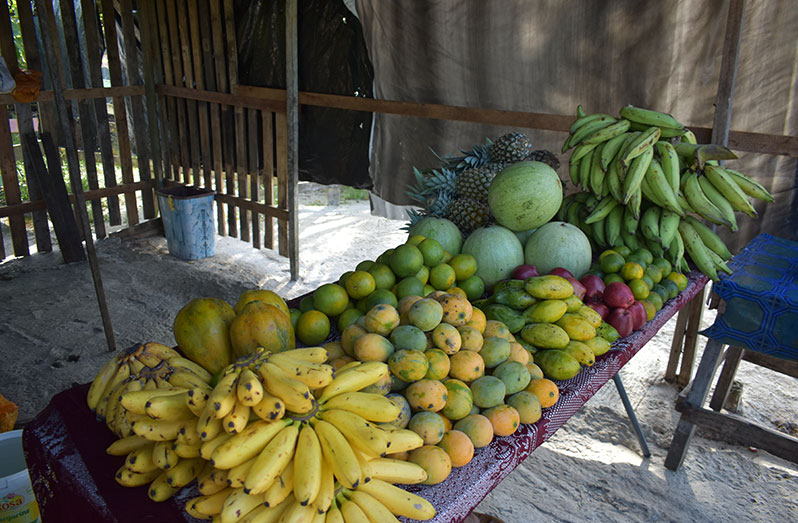 Solomon would set up her stand every day and would vend until 22:00hrs daily since she sells perishables.
"I have to get the fruits and vegetables off because, at times, if it doesn't sell, it would spoil, and I would suffer a loss without making a profit," she said.
She is also trying her hand at selling freshly cut-up fruits which are placed in a bowl for convenience and proper presentation.
As a single mother, Solomon simply cannot give up and is willing to go the extra mile when it comes to providing for her children, all of school age.