CHAITRAM Jagnarain, better known as "Lincoln," is not an ordinary man. In fact, he is a large-scale rice/cattle farmer who also has a small contracting service and returned from Canada to his homeland to contribute to society some years ago.
Jagnarain is a resident of Number 10 Village, Mahaica Creek, East Coast Demerara, who grew up in the village but migrated to Canada in 1996 when he was just 23 years old.
After living in Canada where he had his first child, a daughter, and working in a factory as a forklift operator, he was forced to come back home following the death of his father in 2009.
Jagnarain is a large-scale rice farmer who cultivates 500 acres of rice only in Burma and Mahaica areas, where he is renting farmlands from locals.
He has more than 20 years of experience in rice- farming, having learned from his father at an early age.
The resident of Number 10 Village told the Pepperpot Magazine that climate change plays an integral role in rice farming, and whenever it rains a lot these days, making it more difficult to harvest rice.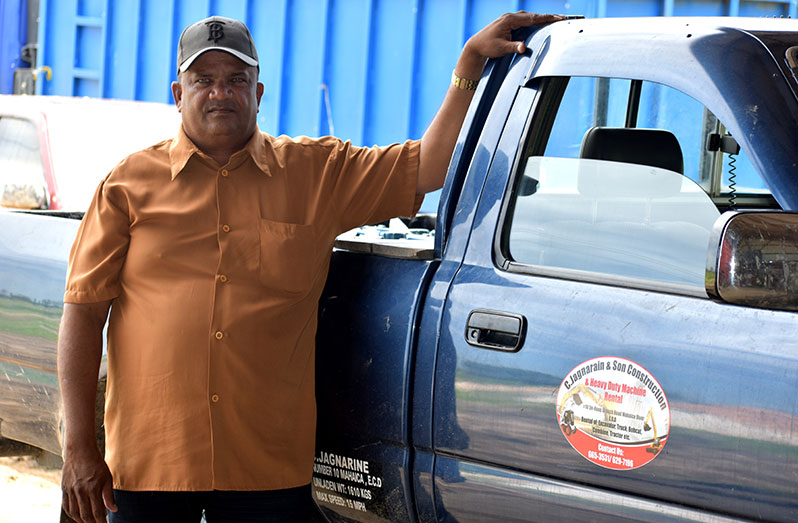 He explained that in the dry season, they would get a good crop, but when it rains, cutting rice entails more labour.
Jagnarain would employ a few men from within the village to assist in his rice cultivation. He owns only 30 acres of farmlands and he rents the rest.
"I dropped out of school at the primary level and you see me, I never attended high school and spent time assisting my father planting rice. He went to school by launch and it was right in the village. Back then, they had mud dams and travelling was only by boat," he said.
Jagnarain remembered when he was young, they used to milk the cows and join the launch to the Mahaica Market to sell, then would return home the same way after buying goods for the home.
The resident added that life was very hard back then, because everything was manual labour. They used to put the paddy in the bag and sew it up before taking it to the rice mill.
However, with the intervention of machinery and equipment, farming has become easier and uses less manpower and labour to get the job done faster.
Jagnarain told the Pepperpot Magazine that in the early years of rice-farming, he had a small tractor and it took days to plough three acres of field. Today, it takes 15 to 20 minutes to do that as a result of modern farming machinery.
The farmer disclosed that he has in his employ his son and four others.
Jagnarain is planting only two varieties of rice, and the drainage and irrigation system is about 80 percent complete as a result of the rising tide.
He reported that way back when life was hard when they did not have roads in the village, but when they benefitted from the main access road the place became more populated.
Today, the village has all-weather internal streets and concrete walkways leading to the schools and police outpost, which is located at the rear of the village.
Recalling a part of his life, Jagnarain said he met a lovely young lady when he was 22 years old, and they got married in 1992.
He reported that his wife migrated to Canada a year after marriage and within six months he was able to join her.
Jagnarain noted that during the years he was living in Canada, he came back to Guyana a few times to visit his parents and siblings.
He is from a large family of 15 siblings, three of whom passed away. His siblings include eight brothers and seven sisters.
Jagnarain told the Pepperpot Magazine that he gives back to society when it is necessary,as he did during the flood by way of hampers to those affected.
He explained that a few of the farmers came together and started a hamper drive which was distributed evenly within the village to bring some form of relief to locals.
"I did enjoy my younger years, and like any countryman I used to ride horses, climbed [sic] coconut trees and fish," he said.