The topic of hair— 'black hair' that is—has always been a taboo conversation within the Guyanese community.
In schools, at places of work, or just in everyday life, people of African descent's hair is under the microscope as they are constantly told to tame their kinks, curls or locs to suit the societal norm of what is considered to be 'neat and professional'.
I remember an 11-year-old me begging my mother, to the point of tears, to straighten my natural hair. At the time, I was just trying to fit in with the rest of the girls at school.
During that time at least 90 per cent of the girls my age rocked buns and bone-straight ponytails, while I seemed to have been the only one still flaunting my cornrows and twists.
Little did I know, I was sitting on a goldmine; there was history growing from my scalp, and before now, I had been ignorant of it.
As you must have figured out by now, I never liked my hair growing up. I was a very tender-headed child. Washing, combing, pressing or braiding my hair was always a struggle.
The other reason had to do with the fact that growing up, I was teased a lot about my hair during my primary and secondary school years. At that time, unfortunately, there were not many natural hair enthusiasts for me to look up to.
As I got older, (well not that old) I started doing my own hair. I even had an experimental phase in my late teens where I tried new hairstyles and methods of styling but always worked toward taking better care of my hair.
While I was loving my hair, others did not quite understand this love.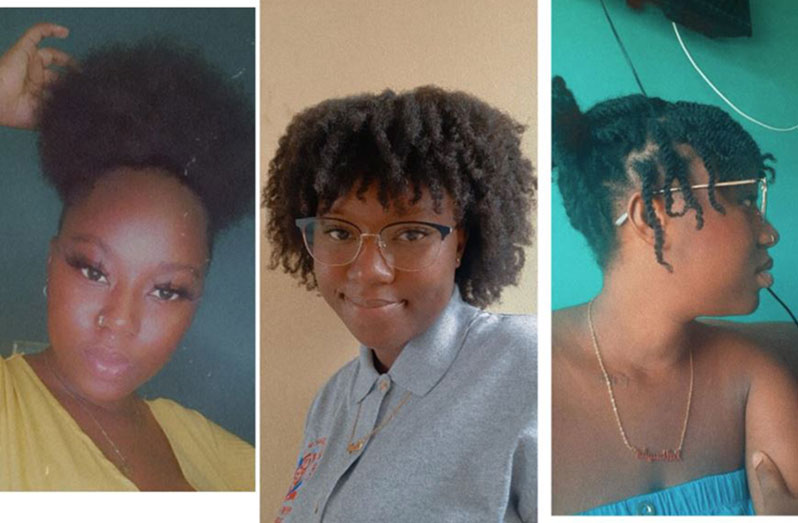 During my experimental phase, I played with many new hairstyles some of which saw me rocking my natural tresses in a kinky fro, or what many girls call a 'high puff'. These hairstyles were not deemed as appropriate for school.
Like many Afro-Guyanese girls and girls of other races with largely 'black'-presenting hair, I have stories of how teachers whispered or even sometimes berated me for the hair that was growing from my scalp.
I can recall one instance where I was asked to 'tame the bush' on my head because my puff was so high it was blocking another student from seeing the chalkboard in a classroom.
I even recall another instance when the deputy headmistress of my secondary school threatened to cut some braids out of my head which she deemed as inappropriate for school.
While I have been out of school for a while, I still have encounters in my everyday life where persons would tell me to fix or comb my hair and make it more presentable whenever I wear it in its natural state.
For the most part, I ignore these comments when they come by me, and I simply blame it on the lack of knowledge of 'black hair'.
'BREAK THE BIAS'
Recently, a video of some teen girls at a secondary school in the Caribbean celebrating their natural tresses on school grounds went viral.
The girls were proudly flaunting afros, curls, locs and braids, with the hashtag: 'fro day'. This sparked a conversation among a few Guyanese on several social media platforms.
Hopefully paying attention to the Buzz, Guyana's Minister of Education, Priya Manickchand, came up with an initiative to host a 'hair day' at schools across the country.
According to a memo published by the ministry, the event will be celebrated in keeping with International Women's Day which is slated to be celebrated worldwide on March 8.
Naming it 'Break the Bias', the ministry said the one-day event will allow female learners to attend school wearing their hair however best reflects them. There are some restraints, of course.
But whether it's afros, braids, curls, whatever style, if any, that makes them feel most beautiful and confident and purposeful, they should flaunt!
Additionally, the minister has since said that her ministry will be looking at coordinated efforts aimed at overhauling outdated school rules which disproportionately affect learners based on their gender and ethnicity.
During a recent media interview, the minister said that discussions will be held to remove some of the archaic rules in schools that could narrow how people choose to express their individuality. I'm here for all of it. (Naomi Parris)