Van Lange wins two National Junior Doubles titles
… .Jeffrey, Burrowes victorious in Novices battle
NATIONAL table tennis player, Jonathan Van Lange, surged to two Doubles titles when the National Junior and Cadet Table Tennis Championships served off yesterday at the Cliff Anderson Sports Hall.
The opening day of the two-day event saw five finals played, including the Mixed Doubles finals, which Van Lange won with up-and-coming star Jasmine Billingy and the Boys' Doubles finals, which he won with rival Niran Bissu.
Crystal Melville and Thuraia Thomas also teamed up to dominate the Girls' Doubles, while in the Novices competitions, Samirah Burrowes finished as the top female and Emmanuel Jeffrey as the top male.
Today, the U15 and U19 Singles, which started yesterday, are expected to culminate, with Van Lange looking to repeat as Junior champion and Melville and Thomas ready to duke it out in the Junior Girls' competition.
When the competition was last held in 2020, Melville finished as Junior Champion, while Thomas copped the Cadet title. This year, age has limited them to just the U19 Girls' battle.
Eleven-year-old players Billingly and Samara Sukhai are favourites for the U15 Girls' title, while with Colin Wong suffering an injury yesterday, the U15 Boys title will be within the grasp of 12-year-old Malachi Moore.
NOVICES BATTLE
Burrowes defeated Shacikecy Daman 11-7, 11-4, 11-2 in the semis and Tricelle Clarke 11-5, 6-11, 11-5, 11-6 in the final of the Girls' division, while for the Novices Boys, it came down to a battle between three friends from Henrietta on the Essequibo Coast.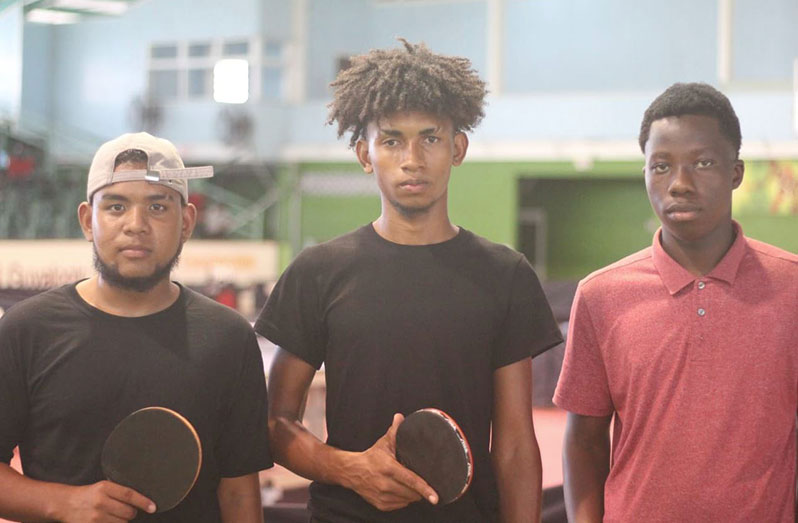 In the end, it was 18-year-old Emmanuel Jeffrey who edged out Gavin Narine with a come-from-behind 3-2 (13-11, 5-11, 10-12, 11-4, 11-9) victory.
Another Henrietta resident, Dasean Verwayne, who lost to fellow 16-year-old Narine, 11-5, 11-6, 11-5, finished tied for third with William Penn.
DOUBLES ACTION
In the Girls' Doubles final, Thomas and Melville defeated Billingy and Sukhai 3-1 (11-3, 4-11, 11-5, 11-7).
Van Lange and Bissu partnered well in the Boys' Doubles. They got past seasoned players Wong and Krystian Sahadeo 3-1 (9-11, 11-8, 12-10, 11-7) in the championship clash, after defeating U. Persival and S. Rahim in the semi-finals.
Sahadeo and Wong had defeated Moore and Ebo McNeil 3-1 in the other semi-finals.
The Mixed Doubles competition had a number of solid teams, but the duo of Van Lange and Billingy proved to be the best. They defeated Moore and Sukhai 11-9, 11-5, 11-7 in the semis before beating Bissu and Thomas 3-1 (7-11, 11-5, 11-6, 11-2) in the final.
Thomas and Bissu had gotten the better of Sahadeo and Melville (11-8, 11-6, 11-5) in the other semi-final.